3 New Things for Hospital Executives: March Edition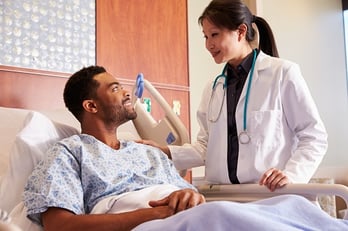 Hospitals Focus On Reducing Harm When harm occurs, it's natural to want to blame someone. Patient safety experts, however, say that medical errors aren't necessarily the fault of a person, but rather the result of a faulty system. Several hospitals have made efforts to reduce harm by:
Reducing hospital acquired infections: About 75,000 patients die per year from infections contracted in the hospital. Stricter protocols like getting staff to wash their hands before touching a patient can make a big difference. Orlando Health in Florida sought to reduce surgical infections by educating surgeons on their own rates of infection vs. national benchmarks and those of their peers.
Preventing blood clots: Hospitals may routinely screen patients for blood clots, but they are slow to initiate treatment. Orlando Health reduced blood clot rates by having physicians assess blood clot risk during admission orders rather than having a nurse do an assessment and wait for the physician.
Detecting sepsis early: Sepsis is one of the most expensive conditions to treat. Northwell Health in New York has implemented a Code Sepsis protocol, which means staff watches for signs of sepsis when a patient enters the hospital and takes the necessary actions to treat the condition if the patient meets criteria.
Source: The New York Times
Even More Patient Data is Coming to Hospitals
IBM recently announced the acquisition of Truven Health Analytics, which will give the tech giant some 4,000 new hospital clients. The chief health officer of Watson Health—the healthcare arm of IBM's Watson technology—says that thanks to IBM's trusted relationships in the healthcare space, its massive amounts of healthcare data and its partnerships, hospital executives and physicians will be able to get insights they were previously unable to access.
Source: Hospitals & Health Networks
Hospital Medical Errors Made Public
Brigham and Women's Hospital (BWH) in Boston is publishing a blog about the hospital's medical errors. Updated once a month, the blog details an error or near-miss that occurs at the hospital. Why publicly document your medical errors? According to the hospital, it's all about transparency. The hospital hopes sharing these stories will help educate prospective patients, BWH staff and medical professionals outside the hospital.
Source: Becker's Hospital Review