3 Ways a Checklist can Help Improve Patient Communication
Checklists are an invaluable tool that help us organize priorities and processes, and accomplish important tasks in an intentional order. Almost ten years ago, doctors from John Hopkins University created a checklist for central line insertion that resulted in a 70% decrease in central line-related infections. Since then, checklists have become ubiquitous in the medical field, leading to successes like global reductions in surgical morbidity and mortality, and improving the quality of care overall. A recent study found that hospitals who used the World Health Organization's Surgical Safety Checklist had a drop of 22% in post-operative deaths.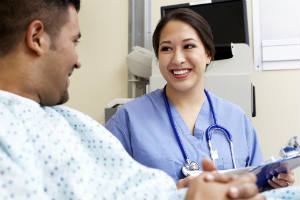 With the move toward patient-centered care, hospitals and physicians are looking for strategies to boost patient communication, and checklists may be a golden key. Hawaii Pacific Hea
lth, a non-profit network of providers, began using checklists in 2016, and saw a sizable increase their physician communication scores with patients. Here are three ways a checklist can help improve patient communication.
Closing the information gap
Encouraging patient engagement is crucial for avoiding re-hospitalization after surgery, maintaining an at-home care routine, and reducing healthcare costs. But when physicians give their patients generic or unclear instructions, the likelihood of patient engagement significantly drops. A study presented at the American Heart Association's Quality of Care and Outcomes Research conference found that patients with clear communication from their physicians were 52% more likely to take their medications, and 44% less likely to go to the emergency room.
Creating checklists that are simple and specific will alleviate any confusion, and motivate your patients to follow through.
Increasing accessibility through technology
Technology and checklists go together like peanut butter and jam. We have numerous apps that keep track of our health, remind us to go to appointments, get up from our desk, or drink water. Mobile platforms of all kinds have already advanced patient communication.
In 2015, SeamlessMD launched an app for surgery patients. Patients were provided reminders and checklists pre-surgery, and educational resources, digital check-ins and self-management tools post-surgery. All of this information was communicated to their physicians which helped prevent hazards like blood clots and infections. "Appy" is another example of an app that helps providers check whether their patient took a recommended action. Platforms like these also help patients connect to support communities, alleviating feelings of isolation and helplessness.
Whatever technological method you use, make sure there are two levels of checklists integrated into your platform: general or disease-related lists that communicate additional patient-action information, and customized checklists that are meant to encourage physician-patient dialogue.
Shared decision-making
With large patient loads, sometimes it's difficult to remember that each patient is an individual with unique needs. Patients can often feel shuttled from one appointment to the next without being listened to. The practice of customizing checklists can bring physicians and patients together in a model of shared decision-making. When a physician and patient use checklists to collaborate on their healthcare plan, patients will be more confident in asking questions and likelier to follow the plan.
As physicians look to improve patient communication, checklists can be a simple, yet effective route in creating a two-way dialogue. When combined with technology, customization and shared decision-making, checklists help physicians and patients clear the road one marker at a time.