4 Common Communication Issues That Cause Hospital Readmissions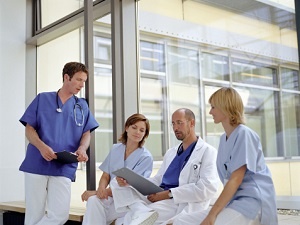 A preventable cause is the reason for a quarter of hospital readmissions, it's killing more than 1,000 hospital patients, and costing hospitals $1.7 billion annually. It's not a virus or bacteria. It's not faulty equipment or bad medications.
It's something that doesn't get much time or resources in nursing classes or medical school—communication.
Researchers from CRICO found communication problems resulted in 23 percent of the 23,000 medical malpractice cases filed between 2009 and 2013.
Common Communication Issues
The following communication errors played a role in a quarter of readmissions, according to research published in JAMA Internal Medicine:
Failure to inform outpatient health professionals of important patient information
Emergency department level decisions made about readmissions
Discharging patients too early
Not enough discussion of patients' care goals
The study authors say that to reduce readmissions, hospital leaders should improve communication between healthcare workers and teams and patients; provide stronger support for patients' self- care; and pay more attention to patient's readiness for discharge.
Even within a single facility, transfer between units, such as the ICU to a step-down unit, too often opens critical gaps in the continuity of care. Internal setbacks in patient care can delay discharge. Premature and non-coordinated discharges are a common prequel to readmission.
One Way to Reduce Readmissions? Communicate!
Hospitals that improve communication can cut readmissions by 5 percent, researchers found. While conducting formal communication training for medical staff and focusing on patient experience can help improve communication and reduce readmissions, there are a few simple things you can do right now to make a quick impact:
Educate in Simple Terms: As medical professionals, it is normal to communicate with one another and patients using medical terms and jargon. While medical colleagues might understand a fellow doctor, most patients won't. "Many adults in the U.S. read below a 5th grade level, so if a physician tells patients to cut 'salt' from their diet instead of 'sodium,' it can make a big difference in the level of comprehension," notes Becker's Hospital Review.
Ask for Repetition: Another way to ensure the patient understands his or her discharge instructions is to have them repeat the instructions back to the physician.
Make an Easy-to-Understand Discharge Plan: It all goes back to simplicity for the patient. Try providing them with a printout of their hospital stay and instructions for discharge. This way, not only does a patient have a reference, they can bring the document to their primary care doctor for follow-up. The printout should include:
Why the patient was hospitalized
The list of medications they are taking and any prescribed to them at the hospital
A note of any pending test results
Any services needed after discharge
Symptoms that indicate the patient should be seen by his or her primary care doctor
The appointment time and date for the follow-up appointment with his or her primary care doctor
Any important phone numbers or contacts
Transforming hospital communication is a cultural shift, but taking the steps to get started as well as implementing simple steps to improve doctor-patient communication right away, can play an important role in reducing your hospital's readmission rates while improving patient safety.