5 Biggest Healthcare Trends to Watch in 2020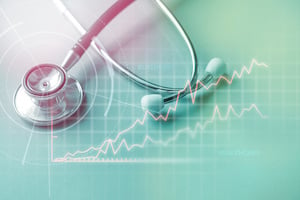 As the dawn of a new decade approaches, healthcare professionals across the world are preparing for a host of new trends and developments. No doubt there are developments in cutting-edge technology that will transform healthcare, ensuring greater efficiency for physicians and better outcomes for their patients.
To help you prepare for the 12 months ahead, as well as the years to follow, here are five healthcare trends set to reshape the industry as we know it.
Robotics
Robotics has existed in surgery for more than a decade, but it's predicted to expand significantly (both inside and outside this vertical) over the next few years. In fact, experts predict the global medical robotics market will hit $20 billion by 2023, according to the American Society of Mechanical Engineers (ASME).
In addition to handling menial tasks like cleaning hospitals and packaging and transporting medical supplies, engineers are developing microrobots that offer targeted therapy and could be invaluable for eliminating bacterial infections in the body, or delivering radiation directly to a tumor.
Wearable Technology
From watches and bracelets to rings and patches, the wearable technology market has exploded in recent years and shows no signs of slowing. Today, smartwatches can monitor everything from a user's heart rate to their sleep cycles — which can be useful for patients and physicians alike. Similarly, wearable ECG monitors can quickly detect irregularities and send reports directly to a patient's doctor.

Expect wearables to continue growing in sophistication, popularity among consumers, and usefulness for healthcare professionals.
Genomics
Providing personalized care plans is essential to driving better outcomes, and the science of genomics is making this even easier. By analyzing patients' genes and genetic mutations with the assistance of machine learning, doctors can make diagnoses faster and more accurately.

And thanks to this proliferation of health information, the medical community can better understand how diseases develop — which is the first step to eradicating complex medical conditions.
3D Printing
Although the concept of 3D printing has been around for more than 30 years, the application of this tech has grown significantly over the past decade. While 3D printing within the healthcare industry was estimated at just over $713 million in 2016, it's projected to top $3.5 billion by 2025, according to data shared by Verdict Medical Devices.
Today, bioprinters can create tissue and organoids made of living cells, which are being trialed as an alternative to human organ transplants. Printing can also transform the production of prosthetic limbs and streamline the manufacturing of surgical tools and other medical devices.
Telehealth
Telehealth adoption is on the rise, with companies like Amazon, CVS, Walgreens, Walmart and Humana offering virtual care services. This is especially useful for people with mobility issues who have a more challenging time getting to a doctor, or people who live in rural communities where physician shortages are growing. And for dialysis patients, receiving monthly ESRD assessments via telehealth can be a welcome convenience.

Expect telehealth to continue expanding in 2020 and well into the future as technology continues to improve.
For several years, we've been setting our sights on 2020 as a marker of extraordinary change. And based on these five trends, it's likely that the coming year will live up to our expectations.