Benefits of Locum Tenens for Physicians and Hospitals
Some 40,000+ practitioners work locum tenens throughout the U.S. More and more physicians are expressing interest in contract work. Locum tenens (Latin: to hold the place of) physicians contract with recruitment agencies to perform temporary assignments. Hospitals and physicians benefit from locum tenens work because: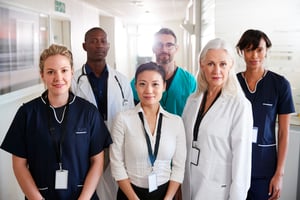 Better Patient Care: Locum tenens work provides physicians in areas where there's a shortage, often in rural areas or countries that lack necessary resources. For example: In rural Iowa, a boy was admitted to a hospital with severe abdominal pain. He was found to have a burst appendix and was treated appropriately. Had a locum tenens physician not have been on staff that weekend. the boy would have likely died if because he would have been forced to go to another hospital two hours away. In addition, locum tenens physicians can be used for gap coverage if a physician takes an extended leave or vacation. This helps ensure that staff is not short-handed and helps improve patient outcomes.
Help Find the Right Place: If you're fresh out of residency or fellowship, deciding where to start your career can feel overwhelming. Working locum tenens while looking for a permanent position can allow you to find the position that's right for you.
More Flexibility: A locum tenens assignment gives you the ability to choose when and where you work. You could use your assignment to see other parts of the country or world, or you could add extra income by working locum tenens overnights. Another benefit is that: you may be able to bring your family or pets along on an assignment.
Professional Development: Locum tenens began in the 1970s as a way to provide doctors to areas with a physician shortage as well as a way to teach physicians new skills, so it's no surprise that doing a temporary assignment has the potential to strengthen your skills.
Higher Retention Rates: Limiting physician turnover can sometimes prove difficult. Doctors can leave full-time positions for a variety of reasons, however, hiring a locum tenens physician who has already worked at your facility can reduce turnover. Because the physician is already familiar with your facility, they are less likely to leave, which can help create a better culture while reducing costs.
Locum Tenens Considerations
While locum tenens assignments may seem like a welcome change, there's more to getting started than simply signing up and jetting off. A reputable locum tenens agency will help you find a position to meet your needs. They will:
Never submit your information to an employer without your consent
Give you enough information about the location and terms of the assignment
Ensure you have paid malpractice insurance
Provide you with information for orientation
Disclose any internal turmoil occurring at your employer