Best Practices for Telehealth and Telemedicine
As the COVID-19 pandemic continues to spread throughout the country, more and more healthcare organizations are depending on telehealth and virtual care to help keep people safe at home while receiving the care they need.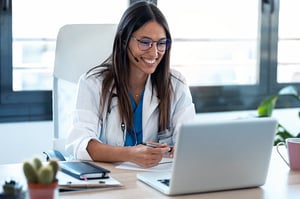 There is a difference between telehealth and telemedicine. Telehealth encompasses a broad scope of remote healthcare services, while telemedicine refers to the use of IT and telecommunications technologies to provide clinical care remotely.
The use of telehealth can come with some challenges. If your institution is using telehealth technologies, keep these best practices in mind.
Understand how to interact over video: It can take some time to get accustomed to interacting with patients via video when you're normal practice is in-person examinations and interactions. When using telemedicine technology for patient care, you'll want to make sure you have a good Wi-Fi connection and adequate lighting. Position yourself so windows or the light source in your room is in front of you, not behind. If possible, conduct your sessions somewhere with a neutral background.
Ensure patients are able to connect: Your facility may have medical assistants who connect with patients before their scheduled appointment to make sure their equipment works and they have the necessary information — like weight or blood pressure — before their appointment. You also may find it helpful to provide patients with instructions for how to connect via email or their patient portal.
If you're in a rural area or you're serving patients who are in a rural area or who don't have access to the technology needed for telemedicine visits, you may want to set up triage and appointments via phone. You can also set up follow-up communications via phone, patient portal, email or text message.
Create a workflow: An in-person patient visit extends to before and after the patient's appointment time. The same applies to a virtual visit. Staff can enroll patients to receive automated appointment reminders 48 hours before their appointment, collect vitals and handle the check-in process before the appointment time and queue the patient for a visit. Once the visit is complete, staff can complete any necessary follow up, ensuring the patient's questions are answered, follow-up appointments are made and prescriptions are obtained.
Have a Plan B: Hiccups can happen with any technology. Make sure you have the patient's phone number in case there is an issue with the video platform you are using. You also might find it helpful to have a backup video solution if your main system goes down.
In addition, the CDC has a framework for providing non-COVID-19 related care via telehealth.
Whether you've just begun using telehealth and telemedicine in response to COVID-19 or you've been using it for a while, using these best practices can help ensure your telehealth practice is as successful as possible.