Pioneers in Cardiothoracic Surgery: Dr. Michael Ellis DeBakey
Perhaps no one person embodies the advancements in the surgical treatment of cardiovascular diseases during the 20th century more than Dr. Michael Ellis DeBakey. As a world-renowned scientist, innovator, medical educator, administrator, author, medical statesman and humanitarian, his name has become synonymous with firsts in surgery, biomedical innovations and the establishment of several educational and medical institutions.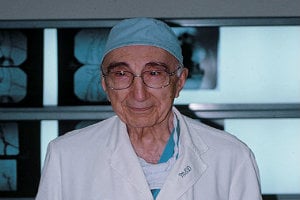 Michael Ellis DeBakey was born in Lake Charles, Louisiana in 1908 to Lebanese immigrant parents Shaker and Raheeja Dabaghi (later Anglicized to DeBakey). He received both his B.S. and M.D. degrees from Tulane University in New Orleans. While in medical school, DeBakey developed the roller pump, which later became an essential component of the heart-lung machine that led the way to open heart surgery.
DeBakey remained in New Orleans for his internship and residency at Charity Hospital before traveling to Europe to pursue surgical fellowships at the University of Strasbourg, France and the University of Heidelberg, Germany. Upon his return to the states in 1937, he joined the surgical faculty at Tulane Medical School. There, he and his mentor Dr. Alton Ochsner, were among the first to postulate a connection between cigarette smoking and lung cancer. DeBakey stayed at Tulane until his 1948 appointment at Baylor University College of Medicine in Houston where he remained and held various appointments for the remainder of his 75-year career.
During World War II, DeBakey volunteered to serve in the U.S. Army, where he helped to revolutionize wartime medicine by supporting the stationing of doctors closer to the front lines. This concept resulted in the development of Mobile Army Surgical Hospital (MASH) units that later saved countless lives during the Korean and Vietnam wars. His work with the U.S. Surgeon General's office also led to the Department of Veterans Affairs (VA) hospital research system.
DeBakey's surgical and biomedical accomplishments are mind-boggling. DeBakey was one of the first to perform coronary artery bypass surgery, and in 1953, he performed the first successful carotid endarterectomy as a treatment for stroke. The DeBakey artificial Dacron graft is now used around the world to replace or repair blood vessels. He pioneered development of the artificial heart and was the first to use an external left ventricular bypass pump (VAD) in a patient in 1966. In the 1990s, working with NASA engineers, DeBakey helped develop a miniature heart pump (the DeBakey MicroMed Pump) that was so small it could be used in children.
Over his career, DeBakey operated on more than 60,000 patients, from world leaders such as Russian President Boris Yeltsin to ordinary citizens. At Baylor, he trained thousands of surgeons. He championed the rights of patients and used his professional knowledge to influence public policy.
A prolific author, DeBakey's writings are published in more than 1,300 medical articles, chapters and books on various aspects of surgery, medicine, health, medical research and medical education, as well as ethical, socio-economic and philosophic discussions in these fields.
A recipient of numerous honors and awards, DeBakey received the Presidential Medal of Freedom from President Richard Nixon in 1969, and the Congressional Gold Medal from President George W. Bush in 2008.
In 2000, he was cited as a "Living Legend" by the Library of Congress.
When DeBakey was 97 years old, he underwent an operation that he pioneered 50 years earlier, the DeBakey Procedure for Aortic Dissection. An aortic dissection is caused by a tear in the inner lining of the aorta which causes blood to flow between the layers of the wall of the aorta, forcing them apart, causing severe pain and potential life-threatening rupture. The operation lasted seven hours and required eight months in the hospital for recovery. After DeBakey was released, he returned to good health until his death two months before his 100th birthday.
Photo Credit: Michael E. DeBakey. (2014, December 7). Wikimedia Commons, the free media repository. Retrieved 18:42, January 17, 2017 from https://commons.wikimedia.org/w/index.php?title=Michael_E._DeBakey&oldid=141752912.