Study: Care from Locum Tenens Professionals has Advantages in Outcomes and Costs
The hospitalist position came about in the mid-'90s and since then, has grown to include 50,000 hospitalists in the U.S., with three-quarters of hospitals using them for in-patient care. However, the physician shortage in this country combined with growing turnover has seen an increase in the use of locum tenens physicians at many hospitals.
A recent survey of healthcare executives revealed 85% of facilities managers used locum tenens physicians in the past 12 months. Around 8% of doctors said they were considering working locum tenens within the next three years, according to a different survey.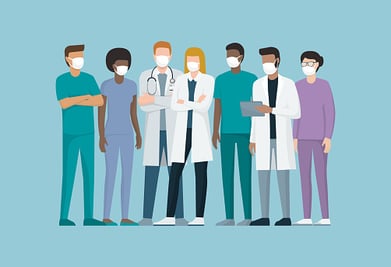 The COVID-19 pandemic also increased interest in the use of locum tenens staff due to short-staffed hospitals. Hospitals are seeking more specialist locum tenens physicians, with around 21% using locum tenens surgeons in 2019.
Despite the increasing need for locum tenens physicians, many facilities are hesitant to employ them due to cost concerns and a lack of familiarity with their departments or practices. Not only that, many healthcare executives believe that care from these physicians is of lower quality and lowers patient safety.
However, a recent study has shown that care from locum tenens professionals has advantages in both costs and outcomes.
The study, conducted at Promedica Toledo, found that patients' length of stay was reduced by one day when they were cared for exclusively by a locum tenens physician versus a hospital-employed physician. These shorter hospital stays resulted in reduced hospital costs.
Study authors were surprised by this finding, saying they expected to find the opposite.
Readmission and mortality rates were the same when patients were seen exclusively by a locums provider versus an employed provider.
Study authors speculate that the reason locums care resulted in a reduced length of stay is because the field is very competitive, which could influence physician motivation to do well and secure additional shifts.
"In contrary to 'expectations,' locum physicians provided shorter hospital stay, lower HC with the same readmission, and mortality compared to employed hospitalists. In patients treated variably by locum and/or employed hospitalists, our analysis showed that patients treated incrementally by locums relative to employed hospitalists had a shorter hospital stay and lower cost."
"Because locum physicians provide shorter stay and lower HC, it might be inaccurate to label locum physician care as 'expensive.' Studies are needed to unravel the net economic outcome of locum physician utilization," study authors write.
Why Hospitals Use Locums Tenens Physicians
Many hospitals use locum physicians to fill in while a permanent physician is found and also to meet needs when the hospital has a staff shortage.
Interestingly, 63% of respondents in a different study rated locum tenens skills as good or excellent. Respondents also reported that major advantages to using locum tenens physicians include that they allow the continual treatment of patients and are immediately available.