CMS Star Ratings: 3 Things to Know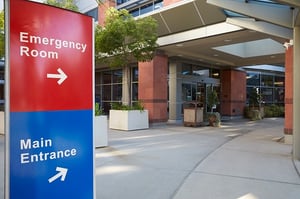 The Centers for Medicare & Medicaid Services (CMS) recently released its Overall Hospital Quality Star Ratings and with it came a slew of questions and comments.
CMS says its ratings system is designed to help individuals, their family members and caregivers compare hospitals "in an easily understandable way."
Here are three things you should know about the latest CMS Star Ratings.
1. The Updates
The latest update combines 64 of the more than 100 measures used to rate hospitals on Hospital Compare into a single star rating. The measures evaluate the following areas:
Mortality
Safety of care
Patient experience
Readmission
Effectiveness and timeliness of care
Efficient use of medical imaging
However, hospitals are assessed only for those measures for which they submit data. As a result, 937 hospitals aren't rated because they either failed to report data or there is not enough data available.
2. How the Hospitals Stack Up
Of the nation's nearly 4,600 hospitals:
102 received five stars
934 received four stars
1,770 received three stars
723 received two stars
133 received one star
3. Anger Over the Ratings System
While the system is meant to empower patients to make their own healthcare decisions, several industry organizations say it is flawed.
The American Hospital Association (AHA) has questioned whether the ratings are unfair to teaching and safety net hospitals.
"The data continues to raise questions and concerns, as it may unfairly penalize teaching hospitals and those serving the poor. We urge CMS to work with the hospital field to ensure its methodology is fair and reliable, so that patients will have access to useful information," says Ashley Thompson, AHA senior vice president for public policy analysis and development.
In a similar statement, Dr. Darrell Kirch, president and CEO of the Association of American Medical Colleges, says the new ratings paint a confusing and conflicting picture of the U.S. hospital system.
This is because the ratings methodology overlooks important issues like differences in patient populations and the complexity of conditions that hospitals treat, says Kirch.
Of particular issue, says Kirch, is the ranking of teaching hospitals, which he says provide some of the most advanced care to the sickest of patients all while setting the standards of care nationally and teaching the next generation of doctors.
"Because of the wide array of complex and common procedures performed at major teaching hospitals, these institutions reported more measures to the CMS. In fact, the agency used more than 60 measures to calculate the ratings for major teaching hospitals compared with as few as nine measures for other hospitals," he says.
As the debate around the CMS Star Ratings continues, hospitals are taking a look at how they can best engage with their patients—and potential patients—to help them make smart healthcare decisions.