Composite CABG Score Helps Hospital Improve Surgeries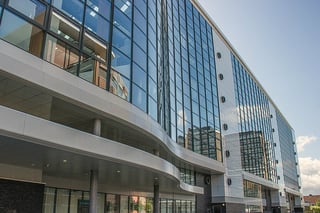 Founded in 1964, the Society of Thoracic Surgeons (STS) is a not-for-profit organization representing more than 7,100 surgeons, researchers and allied healthcare professionals worldwide who are dedicated to ensuring the best possible outcomes for surgeries of the heart, lung and esophagus, and other surgical procedures within the chest. The society's mission is to enhance the ability of cardiothoracic surgeons to provide the highest quality patient care through education, research and advocacy.
Winter Haven Hospital in Winter Haven, Florida topped the STS composite CABG scoreboard in 2014. Four hundred and seventy hospitals from 30 states and the District of Columbia received star ratings from their calculated STS composite scores. The vast majority of these hospitals received two stars. Just over 100 hospital received the top three stars rating, and just sixteen received one star. Winter Haven Hospital's score was 98.9, four tenths of a point higher than the next two runner ups: Providence Hospital from Columbia, SC and Steward St. Elizabeth Medical Center in Boston, MA with scores of 98.5.
Several hospitals including Sanford USD from Sioux Falls. SD, North Shore Medical in Salem MA, Pinnacle Health System Hospital in Harrisburg, PA and Jefferson Hospital in Pittsburgh were close behind the top three with scores of 98.4. Other high scoring hospitals included Texas' Baylor Hospital in Dallas, King's Daughter in Ashland, KY, McLeod Regional Medical Center in Florence, SC, and Pittsburgh's UPMC Passavant with scores of 98.3. Mt Auburn Hospital in Cambridge, MA, Memorial Regional in Hollywood, FL, and Kaiser Sunnyside Medical Center in Clarkemas, OR earned scores of 98.2.
The STS composite score is calculated using a combination of 11 measures of quality divided into four broad categories:
Risk adjustment: To level the playing field, statistical techniques have been developed to account for the condition of patients before surgery. This adjusts the results for each surgeon and hospital by accounting for the severity of their patients' illnesses.
Absence of Major Morbidity: A second category is the risk-adjusted major morbidity rate, or the percentage of patients who leave the hospital with none of the five most serious complications—reoperation, stroke, kidney failure, infection of the chest wound, or prolonged need to be supported by a ventilator.
Use of Internal Mammary Artery: The third category measures the percentage of CABG procedures that use at least one internal mammary (or internal thoracic) artery for bypass grafting. These procedures have been shown to function much longer than vein grafts, which can become blocked over time.
Receipt of Required Perioperative Medications: measures how often all of the four medications believed to improve a patient's immediate and long-term outcomes were prescribed. Those drugs include beta-blocking drugs prescribed pre-operatively, as well as aspirin (or similar drugs to prevent graft clotting), and additional beta-blockers and cholesterol-lowering medicines prescribed post-operatively.
From: http://www.sts.org/