COVID-19's Impact on the Surgical Resident Training
The COVID-19 pandemic has affected the medical profession in myriad ways, from changing surgical practice to treating emergent patients and much more. One area of impact that tends to be overlooked is how the pandemic will affect the training of surgical residents.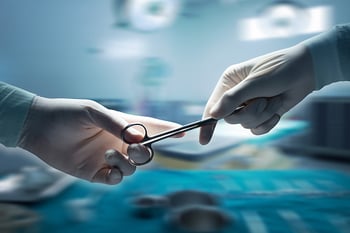 The pandemic has altered cardiothoracic surgical practice. Therefore, the course of cardiothoracic surgery residency programs has been changed as well.
COVID-19 caused many thoracic surgery programs to shut down in mid-to-late March 2020 to allow residents and others to help care for COVID patients. The American Board of Thoracic Surgery reported these closures not only affected the operative experience, but also the maturational experience and the educational environment.
"We were particularly struck that this would have a profound impact on some of the senior residents," said Dr. David A. Fullerton.
The last four to six months of a residency program is when residents are acquiring a greater sense of surgical maturation and autonomy, Dr. Fullerton explained.
"Because the programs were halted overnight, we realized there might be a concern that residents might not be able to effectively meet their minimum operative requirements to enter the certification process," he said.
As a result, the board initiated two actions: It was flexible about requirements and, with the help of professional associations and boards, extended an invitation to residents and programs to contact the Board of Thoracic Surgery for help if they weren't going to be able to meet requirements.
The board found that in the majority of cases, residents came very close to completing requirements, usually missing one or two case requirements. To remedy this, the board decided residents were allowed to enter the certification process if they successfully completed the program as judged by the program director.
Since most graduating residents either had post-graduate work or employment lined up, the board decided they could acquire the necessary case requirements under the guidance of a board-certified thoracic surgeon at their new place of work. This change, Dr. Fullerton noted, should not disrupt their career progression.
The board was particularly concerned about the experience of congenital surgery residents because they have a shorter period of time to acquire their operative experience. Like the thoracic surgical residents, the board created contingency plans to help them graduate and get the requisite experience they need.
Challenges to Residency Program Directors
Residency program directors face many challenges, and with the emergence of COVID-19, those challenges increased. The most pressing challenges were:
Lack of residents exposure to cases
Increased competition for time because trainees are moved elsewhere to care for COVID patients, removed from services, or not able to come to clinic hours as frequently as before.
Decreased opportunities to learn and practice, and decreased opportunities for faculty to assess skill.
"This loss of cases is really impacting that ability to grant autonomy and hence that ability to assess technical skills," said Dr. Ara A. Vaporciyan.
Dr. Vaporciyan recommended that program directors take one of two approaches:
A retrospective approach where they review existing data on each trainee. Don't focus solely on the number of cases a trainee has done, focus instead on the competency they display.
Communicate with the teaching faculty on a regular basis to assess the trainee's progress.
What Residents Experienced
Dr. Scott Deroo, a resident at New York-Presbyterian/Columbia University Medical Center, felt COVID's impact strongly. Because he's working at a New York City hospital, things changed rapidly for him and his fellow residents.
In the spring of 2020, Dr. Deroo saw the department's caseload drop to between one and three cases per week.
"We converted all but eight of our operating rooms into ICU beds," he said. "Cardiac surgery residents took a big role in helping to staff that."
At New York-Presbyterian/Columbia University Medical Center, cardiac surgery residents did a two-on, two-off system where they spent two weeks doing cardiac surgery and then two weeks in the COVID ICUs.
Dr. Fatima G. Wilder, MD, a resident at The Johns Hopkins University School of Medicine, and her fellow residents were concerned as the wave of COVID cases increased in their area.
"We brought some of our concerns to our faculty to how we could best make sure patients were taken care of but also minimize the risk to ourselves," she said.
The faculty at Johns Hopkins allowed residents to come up with a schedule where the cardiac residents were rotating on an in-house call schedule and the thoracic residents were on a week on, week off schedule.
"To minimize the risk of exposure, if you weren't needed in the hospital, you were to be at home and available for cases if needed," she explained.
How have your residency programs been impacted by COVID-19? Let us know in the comments.