CT Surgeons Lead the Way in COVID Vaccine Trials
The Cardiothoracic Surgical Trials Network (CTSN) usually focuses on research for coronary artery disease or atrial fibrillation. But when COVID-19 became a public health emergency in early 2020, the organization pivoted away from focusing on cardiothoracic research and instead began to study infectious disease.
A Trial for ARDS
Initially, researchers at CTSN were called upon to investigate whether stem cells could help patients who developed ARDS from COVID-19. The industry partner who made the request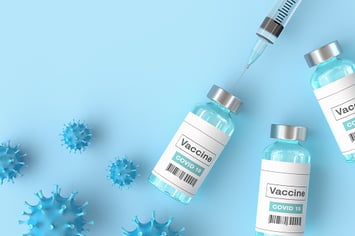 wanted to know if its allogeneic mesenchymal stem cell product could help alleviate the cytokine storm that was associated with the virus.
Drs. Peter K. Smith from Duke University and Michael J. Mack from Baylor Scott & White Health were the principal investigators in the trial, which they designed in two weeks. Sponsored by the National Heart, Lung, and Blood Institute, the trial ran for 5 months and the results have not yet been published.
Operation Warp Speed
Created in May of 2020, Operation Warp Speed was created by the U.S. government to accelerate and facilitate the development and distribution of a COVID vaccine. The initiative created a series of trials backed by the National Institutes of Health (NIH). It also coordinated efforts to evaluate the safety and effectiveness of COVID treatments to hospitalized patients, and that's where Dr. Mack and his colleagues came in.
CTSN was involved in three trials for Operation Warp Speed and provided at least half the number of patients enrolled in each trial.
As a result of the hard work of CTSN researchers and other researchers, hundreds of millions of Americans had received at least one dose of the COVID-19 vaccine by Spring 2021.
More from CTSN
The CTSN was created in 2007 after a group of cardiac surgeons was challenged by the National Heart, Lung, and Blood Institute (NHLBI) to assess the state of cardiac surgery research. The CTSN has grown to 60 sites in the U.S. and 35 in Europe and South America and has been involved in more than 20 non-COVID-related trials.
Before the pandemic, the CTSN trials focused on:
Rate control versus rhythm control for postoperative atrial fibrillation
Surgical treatment of ischemic mitral regurgitation
Surgical ablation of atrial fibrillation during mitral valve surgery
The management of postoperative atrial fibrillation after coronary artery bypass grafting, and neuroprotection in patients undergoing aortic valve replacement
The CTSN is looking to expand to additional sites to serve underserved populations and young investigators. Become involved in CTSN here.
Source: STS