How Digital Technology Can Improve Patient Satisfaction
The pandemic made virtual healthcare a necessity, but patients had been becoming more and more digital with the way they sought health information and treatment before COVID struck. You know that active listening, empathy, the appearance of your practice and professionalism of your staff all influence patient satisfaction, but so does a patient's digital journey.
Here's what you need to know to improve patient satisfaction, digitally.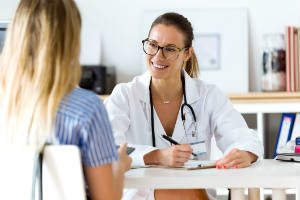 Research and Discovery
Today, most patients are like shoppers. They research a physician online before they make an appointment. This can also be true for patients who are referred to you. Patients want to make sure you're the correct expert for them. Take a look at what information is included on your site or your biography page at your institution. Does it include information to your research/publications or other information that establishes you as an expert? Does the information answer common questions that patients may have such as years practicing, education, or patient reviews? All of these items can help give patients the information they're looking for.
Scheduling
We've all waited on hold for a service. How long does someone have to wait on hold to schedule an appointment or speak with a nurse or clinician at your practice? According to a survey by NRC Health, 68% of patients would switch practices for the ability to book online.
Patient Portals and Paperwork
Utilize your patient portals to allow new patients to complete paperwork prior to their first appointment. If a patient hasn't completed their paperwork prior to their first visit, you could provide tablets for them to do so in the waiting area. You can also use portals to accept payment.
Appointment
Wait times remain an issue for both patients and providers. For patients, perceived wait times can have more of an impact than actual wait times. To provide a good experience while your patients are in your waiting area, consider providing free Wi-Fi or giving free content about various health conditions.
Once the appointment has concluded, send an email to patients asking them to rate their experience. This can give you valuable information on areas in which to improve.
Real-Life Examples of How Digital Improves Patient Experience
According to Ernst & Young, one health system, knowing their patients preferred communicating with the practice via text message instead of via a patient portal, set up a secure system that let patients schedule appointments and interact with physicians via text.
Voice assistants like Alexa or Siri are even making an appearance in healthcare. Some surgeons have used voice technology in the OR to speak commands instead of typing or clicking a computer during a case. This could improve OR efficiency.
One health system is experimenting with listening technology that is used during patient-provider interactions. The information that the technology captures is then entered into the patient's EHR.
Another health system is using online appointment scheduling to welcome patients back during the pandemic and to make it easier for patients to get the care they need.
Eagles Landing Health is using the technology in conjunction with targeted patient outreach. It works like this: The system flags patients who have missed a wellness visit or a preventive screening and sends out an alert. Using the online appointment scheduling option, patients can set up an appointment, according to Patient Engagement HIT.
Eagles Landing did have a call center for appointment requests prior to the pandemic. However, as the pandemic wore on, the call center was flooded with COVID questions and people who needed an appointment were forced to endure long wait times. The online appointment scheduling allowed the system to free up the call center for COVID questions.
While health systems are constantly working to improve patient experience, adopting various digital experiences for patients can help create a more patient-centered experience.