Documentary 'Who Shall Live' Sets Healthcare Reform in Motion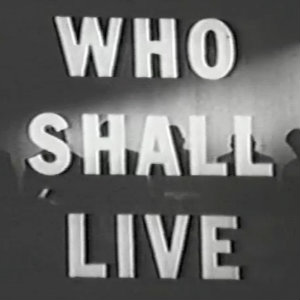 A 1965 NBC documentary, "Who Shall Live?", narrated by Edwin Newman, created a stir. The documentary portrayed the highly controversial decision-making process that occurred during the early days of dialysis when only a few patients could be treated, and even then at great cost. The documentary showed faceless black silhouettes of the anonymous committee of community members against a stark white background as they deliberated over cases and selected which patients would receive dialysis treatment. Their decision meant life or death for the end-stage renal disease patients they were reviewing. The committee's authority was final and irrevocable. Ultimately, the serious ethical dilemma of a committee's choosing who would and wouldn't receive medical treatment to extend their lives set in motion a transformation of the healthcare system in this country.
The ethical debate over "Who Shall Live?" crystallized for the nation the basic principle that healthcare services in the United States should not be an exclusive right of the rich and privileged, of the white-collar worker, the breadwinner, or any other selected profile. It needed to be universal.
W.J. Kolff, inventor of the artificial kidney, stated, "I've always been morally opposed to the life and death committees because they selected patients based on their social status and success. At the [Cleveland] Clinic, it was even suggested that I should keep an artificial kidney ready in case a banker downtown might need one. Terrible institutions. Contradictory to every Christian philosophy."
The 1960s and 1970s saw a move toward federally subsidizing expensive healthcare procedures to make life-saving technologies available to anyone who needs them. It shifted away from select individuals or panels deciding who shall live based on physical, financial, and other personal merits.
The U.S. Congress set a precedent when, in 1972, it enacted legislation which made all patients with end-stage kidney disease eligible for Medicare. It led to Medicare subsidized funding of many of the very expensive technology-based treatments such as coronary bypass open heart surgery, and bone marrow transplantation," reflected Belding Scribner, pioneer of the revolutionary Scribner Shunt.