Profile of Excellence: Dr. David J. Sugarbaker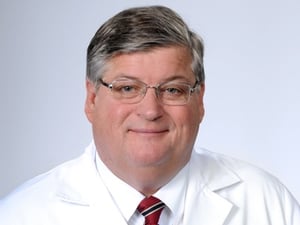 Chief, Division of General Thoracic Surgery the Director of the Baylor College of Medicine Lung Institute at CHI St. Luke's Health–Baylor St. Luke's Medical Center in Houston, TX94th
AATS President (2013-2014)
Mesothelioma is a particularly virulent form of cancer that develops in the thin layer of tissue (the mesothelium) that covers many of the internal organs. Caused primarily by exposure to asbestos, the lining of the lungs and chest wall are the sites most commonly affected. Symptoms include shortness of breath, pain in the chest wall, cough, fatigue and weight loss. In 2015, about 60,800 people had mesothelioma and 32,000 died from the disease. The percentage of people in the United States that survive five years following diagnosis is on average 8%.
Internationally recognized thoracic surgeon Dr. David J. Sugarbaker specializes in the treatment of mesothelioma, the surgical management of malignant pleural mesothelioma, and the treatment of other complex thoracic cancers.
Treating cancer was no stranger to Dr. Sugarbaker. He grew up in Jefferson City, Missouri, as the eighth of ten children. His father was a cancer surgeon and his mother was a nurse. He spent his youth helping his father in the laboratory, operating room, visiting patients outside of town, and becoming interested in medicine.
As an undergraduate at Wheaton College in Illinois, his roommate was a philosophy major who opened up Sugarbaker to the world of metaphysics, which became a lifelong interest. Following in his father's and brothers' footsteps, he went to Cornell Medical School in NYC where he graduated at the top of his class in 1979. After residencies in surgery at Brigham and Women's Hospital in Boston and in cardiothoracic surgery at Toronto General Hospital, he became chief resident in cardiac surgery at Toronto General Hospital and a resident in pediatric cardiac surgery at The Hospital for Sick Children in Toronto, Canada.
Completing his residencies, Dr. Sugarbaker was appointed Chief at Brigham and Women's Hospital in Boston, where he founded and built the first non-cardiac division of thoracic surgery in the United States. Sugarbaker spurred the establishment of the Tissue and Blood Repository at Brigham and Women's Hospital and a year later, he performed the first ever lung transplant in Massachusetts.
In 1992, Sugarbaker developed the first general thoracic surgical training program in the U.S. and has since trained over 80 residents. In addition to his career at Brigham and Women's Hospital, Sugarbaker began as Professor of Surgery at Harvard Medical School in 1999. In 2002, he founded the International Mesothelioma Program (IMP) with the central goal of finding a cure for the disease.
When Sugarbaker arrived at the Texas Medical Center (TMC) in 2014, he founded a new Division of General Thoracic Surgery, the Lung Institute, which integrates medical and surgical treatments for benign and malignant non-cardiac thoracic diseases, and the Mesothelioma Treatment Center (MTC), focused on the evaluation and treatment of patients with mesothelioma. As Director of the Baylor College of Medicine Lung Institute at CHI St. Luke's Health–Baylor St. Luke's Medical Center, Dr. David Sugarbaker leads the first multi-specialty Lung Institute in Texas, that focuses on treatment of lung disease.
Recognized for his efforts as a pioneer in the treatment of mesothelioma, Dr. Sugarbaker received the Pioneer Award from Mesothelioma Applied Research Foundation in 2012.