Profile of Excellence: Dr. F. Griffith Pearson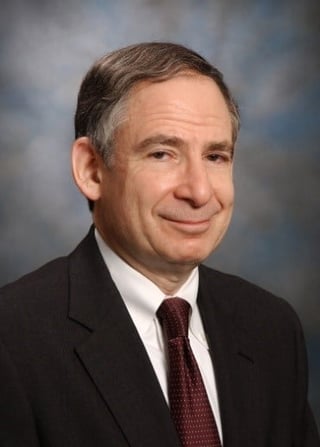 70th AATS President (1989-1990)
Legendary thoracic surgery pioneer:
Legendary Toronto thoracic surgeon Dr. F. Griffith "Griff" Pearson never really left home. He was born in Toronto in 1926, attended University of Toronto Schools and completed undergraduate studies followed by medical school at the University of Toronto.
During his lifetime, Dr. Pearson became recognized throughout the world as one of the founders of the thoracic surgery specialty and for the establishment of the "Toronto School of Thoracic Surgery." His training program became the model for thoracic training programs everywhere. "Toronto Program" graduates became preeminent thoracic surgeons all over the world. Moreover, Dr. Pearson's pioneering leadership and early research on airway surgery led to the world's first successful lung transplant being performed in 1983 in Toronto by Dr. Joel D. Cooper and his team.
Although Dr. Pearson's home base was Toronto, he traveled extensively to work, observe, and learn from other surgeons. Following his internship, Pearson spent one-year as a general practitioner in Port Colborne, Ontario with two local general surgeons who became his role models for "patient care and caring." Later he practiced general surgery in the small northern Ontario town of Wawa on the Lake Superior shore, during which he developed the sense of independence, resourcefulness and "comprehensive patient care."
When Pearson decided to focus on general thoracic surgery he went to Bristol, England to work under Mr. Ronald Belsey who was a great influence. From Mr. Belsey he learned to carefully follow-up with patients, even decades after their initial surgery. In 1960, Dr. Pearson went to Copenhagen where he witnessed the early use of prolonged mechanical ventilation for respiratory failure during the polio epidemic and observed the devastating laryngeal and tracheal injuries resulting from endotracheal and tracheostomy tubes. These experiences led to his research and clinical interest in tracheal resection and reconstruction and inspired him to champion the first intensive "respiratory failure unit" in Canada.
Not only as master surgeon but also an innovative thinker, Dr. Pearson exhibited a clarity of thought and speech that made him a great teacher. He instilled in all his students the belief that hard work, a scientific approach, and perseverance can solve the toughest challenges in medicine. One of his many mentees, G. Alexander Patterson MD, reflects that Dr. Pearson was the most important role model in his surgical training. "He had an incredible generosity of spirit."1 His patience, humility, talent, wonderful bedside manner, innate curiosity, and innovative spirit inspired his students to continue his legacy of furthering thoracic surgery.