Profile of Excellence: Dr. Floyd D. Loop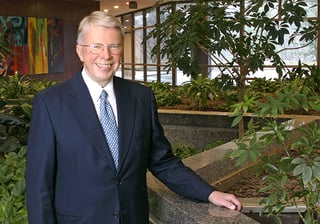 Cardiothoracic Surgeon; past CEO Cleveland Clinic Foundation
78th AATS President (1997-1998)
Dr. Floyd D. Loop was a Midwesterner through and through. He was born in Lafayette, IN, in December 1936. His mother was a university professor and his father, a country doctor. Loop always knew that he wanted to be a doctor like his father. He left the Midwest to go to George Washington University in Washington, DC, for his preliminary medical school training. Then, upon the advice of his mentor there Dr. Brian Blades, he returned to the Midwest, to Cleveland Ohio's Cleveland Clinic, where spent the remainder of his professional career.
When Dr. Loop arrived at the Cleveland Clinic in 1970, coronary artery bypass surgery (CABG) was in its infancy. Dr. René Favaloro, Loop's Cleveland mentor, was one of the first to start using the internal mammary artery as an arterial graft, rather than relying solely on saphenous vein grafts. Loop joined Favalaro in championing its use. The pair helped make it and CABG surgery the accepted treatment for atherosclerotic coronary artery disease. In 1975, Loop became chair of the Clinic's Department of Cardiac Surgery, and served in that role until 1999. Under his watch, the Clinic became recognized as one of the world's leading cardiac surgery centers. Dr. Loop believed that the "keys to success in complex cardiac surgery, are decision, precision, scholarship and endurance." Three of these qualities, decision, precision and endurance, are natural to a cardiac surgeon, but scholarship also is important and must be intentionally cultivated once one has completed training.
In 1989, Dr. Loop he was tapped to be the CEO of the Cleveland Clinic Foundation and over the next fifteen years guided it through an era of unprecedented growth and expansion, from an institution known mostly for cardiac care to a fully integrated medical delivery system of acquired hospitals, newly constructed outpatient clinics, and expansion into Florida and overseas. He also oversaw the building of research, eye, cancer, and heart institutes, as well as the inauguration of the Cleveland Clinic Lerner College of Medicine of Case Western Reserve University.
Dr. Loop's many interests included history, horticulture, and qualities of leadership. Upon his death in 2011, he was remembered by Dr. Lars G. Svensson, chair of the Miller Family Heart and Vascular Institute, as ''the epitome of a renaissance man and for his moral commitment to loyalty and truth in all aspects of dealing with patients and his colleagues.'' In his own words, Dr. Loop cautioned specialists not to get too smug. "Patients, really want to know what their surgeon has to say, …Talk to them, share your experiences - just a few of your words will go a long way.