Profile of Excellence: Dr. G. Alexander Patterson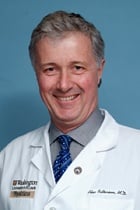 Washington University Chief of Surgery
90th AATS President (2009-2010)
Growing up in Brockville, Ontario, on the banks of the St. Lawrence River, little did G. Alexander Patterson suspect that he would qualify to become a surgeon, let alone a world renowned thoracic surgeon. As a youth he wasn't much of a student, but he was a good athlete and was quarterback and captain of his school's football team and a rower in a well known rowing club. Rowing, he says taught him discipline, perseverance and dedication to a difficult task, valuable qualities for a surgeon in the making.
Dr. Patterson attended Queen's University in Kingston, Ontario, from which he received his medical degree in 1974. First, he planned on becoming a general practitioner in his hometown of Brockville, then an orthopedic surgeon and then a vascular surgeon. However, thoracic surgery won out after he met his future mentors Dr. F. Griff Pearson, Dr. Joel D. Cooper and Todd Ginsburg at the University of Toronto.
There, in 1983, Dr. Patterson became part of Dr. Joel Cooper's team that performed the first successful long-term single-lung transplant. In 1986, Drs. Patterson and Cooper performed the first successful long-term double-lung transplant and in 1988, the first successful long-term double lung transplant for cystic fibrosis. Now, over 30,000 lung transplants have been performed in the US alone.
In 1991, Dr. Patterson was recruited to Washington University in St. Louis, MO, by Drs. Cooper and Cox to direct one of the first lung transplant programs in the United States at Barnes-Jewish Hospital. It rapidly became one of the largest in the world. As Evarts A. Graham Professor of Surgery and the Chief of the Division of Cardiothoracic Surgery, Dr. Patterson's output has been prolific. He has authored more than 400 publications, 70 book chapters, and 300 abstracts and presentations. In addition, he is the editor of 9 textbooks on thoracic surgery. His laboratory, funded by National Institutes of Health grants, investigates a broad spectrum of applications in thoracic surgery. He has served as visiting professor at 55 institutions worldwide where his work has had an enduring influence.
Having held numerous positions of leadership in the thoracic surgery world, Dr. Patterson champions the importance of leadership in the field of thoracic surgery, stressing that its core values, scholarship, mentoring, and quality patient care must be always take precedent. Through his own example, Dr. Patterson demonstrates that leadership, scholarship, mentoring, and technical excellence are achievable without compromising the underlying values of virtue, integrity, or dignity.