Profile of Excellence: Dr. W. Gerald Austen
Chief of Surgery Mass General Hospital; 69th AATS President (1988-1989)
Born in Akron, Ohio in 1935 to a prominent aerospace engineer and his wife, W. Gerald Austen was imbued from childhood with a strong work ethic in which one was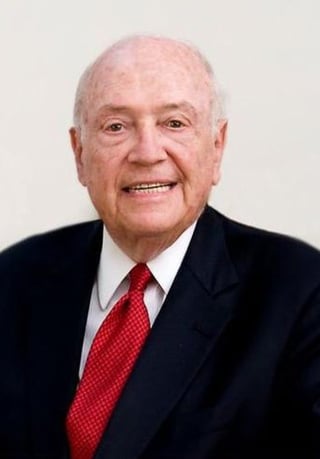 to use one's brain to its highest potential. He was also taught that it is also important to be a good person. Influenced by his Goodyear Corp. vice president father and his boss, he matriculated at Massachusetts Institute of Technology (MIT) with the intention of following in his father's footsteps and becoming an engineer. During his senior year, Austen changed his mind and decided to become a doctor.
After graduating from Harvard Medical School, he was accepted in Mass General's premier residency program then headed by Dr. Edward Churchill. During his residency years, Austen learned how important it is to collaborate rather than compete with one's peers to be successful in medicine. He recalled that for five years, he worked 36 hours straight and then had 12 hours off. When not in the hospital seeing patients, he would be in the lab building primitive cardiopulmonary bypass machines and conducting research with dogs. He loved every minute of it and was soon using the heart/lung apparatus with patients.
After spending six months in London performing general and vascular surgery and six months in Leeds honing heart surgery, Austen went to National Institutes of Health where he learned the proper way to conduct research and then to report the research through publishing papers. While at NIH, he and his lab partners authored 31 publications. Then it was back to Mass General in 1963 where he ran the heart surgery program before becoming Chair of Surgery in 1969.
Austen reflected in an interview for In the Words of the Presidents compiled by Marc R. Moon, M.D. (2017, American Association of Thoracic Surgery on the occasion of the organization's 100th anniversary), that to have a successful program today, one needs experts dedicated to each specific aspect of the field. He calls patient care, teaching and research the academic triad in surgery and a good program needs superb practitioners for each. His philosophy is reflected in the online description of Mass General's Minehan Heart Center where they say "a team of world-class physicians and nurses, each specializing in specific forms of heart disease, work closely together to offer leading treatments and preventive care for both common and complex cardiac conditions."
Austen also cautions that good administration of a program is critical, but it is difficult to combine it with being a clinician or researcher. Rather, an administrator's focus should be mentoring younger faculty. "If you really care that they succeed, that's what it's all about."
Reference:
In the Words of the Presidents,
Marc R. Moon, M.D., 2017 American Association for Thoracic Surgery, Beverly, MA 01915