ECMO Support for COVID-19 Patients
A recent publication in the Chinese Medical Journal shares experiences with COVID 19 patients suffering from refractory hypoxemia due to severe ARDS and the deployment of ECMO support. According to the publication, 99 patients were admitted with confirmed cases of COVID19 and 17 of those patients developed ARDS. Three of the seventeen required ECMO support, while 11 of the 17 died. In this scenario, 3% of COVID19 patients required ECMO support.
Comparing these statistics to other respiratory pandemics such as the H1N1 in 2009 and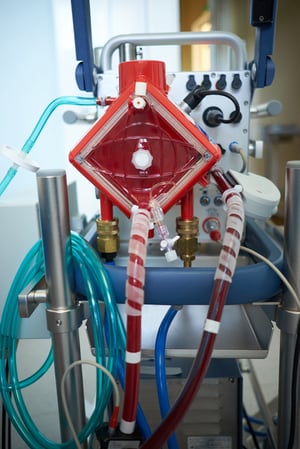 MERS in 2012,can help us predict the use of ECMO throughout the COVID 19 pandemic. The authors identify a study relating to the MERS outbreak where 35 patients experienced severe ARDS with refractory hypoxemia and 17 of those 35 received veno-venous ECMO support (48.6%). Additionally, comparing the patients who received ECMO support to those who were managed with conventional modalities, mortality rates were significantly lower; 65% for ECMO and 100% without.
These past experiences may provide some insight in how intensive care and ECMO centers around the world can prepare. The publication also highlights practical concerns such as obtaining enough ECMO equipment and personnel and consideration of the increased risks of transmission with exposure to more bodily fluids during ECMO cannulation. Preparation will be key for success as the number of COVID19 patients continue to increase throughout the world.
Article: https://journals.lww.com/cmj/Citation/publishahead/Extracorporeal_membrane_oxygenation_support_in.99366.aspx