Tips for Making Your First Locum Tenens Assignment a Success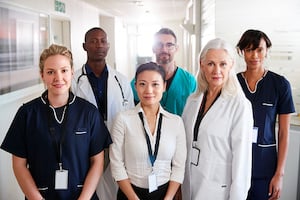 Making the switch to working locum tenens can be a rewarding and fulfilling career decision. But while it allows you to make a significant impact at a new facility, grow your professional network, enjoy greater flexibility, and increase your income potential, it's not uncommon to encounter a few challenges, too.
For example, locum tenens physicians often have to overcome plenty of communication hurdles when working as part of a brand new team. They also frequently experience credentialing complications and tax issues. In some cases, you may be placed in a location far from family or in a highly remote area, which can take some adjusting.
Here are five tips to help you make the most of this opportunity:
1. Be open to new experiences
Rural hospitals are disproportionately affected by the physician shortage, which means there's a good chance you'll be assigned to one of these areas. This can be challenging for city dwellers who feel most comfortable in the hustle and bustle of a busy metropolis.

Similarly, you may be placed in a climate you don't consider ideal, or on the other side of the country (or the world) from family and friends.
Instead of being frustrated with your assignment, do your best to remain open to new experiences. Push yourself outside your comfort zone, meet new people, and look for opportunities to both teach and learn.
2. Make an appointment with a financial professional
Most locum tenens assignments are contractor positions, which means taxes aren't taken out of your paycheck. Instead, you'll be responsible for paying these separately. Additionally, you may also have to handle your own retirement savings and insurance.

Before you begin your new assignment, take time to meet with a CPA or financial adviser. These professionals can help you determine how much to set aside for taxes, walk you through making quarterly payments, offer suggestions regarding your retirement account and more.
3. Be organized
Part of taking a locum tenens position means transferring your credentials to a new location, and often it's out of state (or even out of the country). While the agency you work through will likely handle much of the paperwork, it's crucial you get them all the information they need.

Because you may encounter snags in the credentialing process, which can push back your start date, it's a good idea to file your paperwork as early as possible.
4. Brush up on your communication skills
One of the most challenging aspects of working locum tenens is assimilating into a new facility's culture. It can take time to get accustomed to new processes and make social connections. One of the best things you can do is to fine-tune your communication skills. Be sure to ask lots of questions, introduce yourself to every colleague you meet, be friendly and polite, and use active listening.

"Treat everyone with respect and how you want to be treated," says Alex Curry, a consultant at locum tenens staffing agency Weatherby Healthcare. "This simple gesture goes a long way toward endearing yourself to the permanent staff."
5. Don't lowball salary requests
Because locum tenens physicians are contractors, they're usually paid an hourly rate. And because taxes, retirement and benefits may not be taken out of your payments, it's important you factor that in when making your salary request. It's better to start with a higher request and give the employer an opportunity to negotiate lower than to start too low and get stuck making far less than you deserve.
Remember: Working locum tenens gives you exposure to opportunities many traditionally employed physicians may never experience. And by following the five tips above, you can ensure your first assignment is a success.