Giant of Pediatric Surgery: Dr. Francis Fontan
"With the passing of Professor Francis Fontan on the 14th of January 2018, the community of congenital heart professionals lost one of its greatest leaders. He was a surgical innovator, a man of science, and a European visionary."1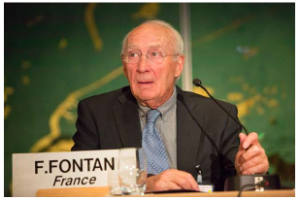 Dr. Francois Fontan was born in the foothills of the Pyrenees Mountains in southwestern France and spent most of his life in the Bordeaux region where he ultimately became full professor at CHU de Bordeaux and Chief of Cardiac Surgery at the Cardiologique de haut-Léveque in Bordeaux-Pressac.
Dr. Fontan is best known for pioneering, along with Dr. Guillermo Kreutzer from Buenos Aires, Argentina, a surgical treatment for children born with a serious heart defect, notably one effective heart ventricle. With his procedure, Dr. Fontan was the first surgeon in the world to completely bypass the right heart by channeling venous blood from the inferior and superior vena cavas directly to the pulmonary arteries. Kreutzer offered modifications to the procedure.
Now known as the Fontan Procedure or the Fontan/Kreutzer Procedure, this palliative surgery has extended the lives of many infants and toddlers. Prior to its development, only a third of children with this heart defect lived to 12 months of age and only 10% were still alive at 10 years. Since its pioneering development, most patients survive well into adulthood.
Not only was Dr. Fontan a skilled surgeon, innovative scientist and respected administrator, but he was also a passionate European. He founded the European Association for Cardio-Thoracic Surgery (EACTS) which held its first meeting in Vienna in 1987. The mission of the Association is to advance education in the field of cardiac, thoracic and vascular interventions; and promote research into cardiovascular and thoracic physiology, pathology and therapy, with the aim to correlate and disseminate the results for the public benefit. The EACTS Annual Meeting is now the largest cardio-thoracic meeting in the world focusing on scientific developments and research in acquired cardiac, congenital heart, vascular and thoracic diseases. The association has helped raise the standards of surgery and research throughout Europe. Each year the society bestows a grant to a young surgeon for a year of study in Europe. This Francis Fontan Prize is a enduring tribute to a one of the giants in pediatric cardiac surgery.
Reference:
1José Fragata, MD, PhD, "In Memoriam Francis Fontan, MD (1929-2018)," World J of Ped and Congenital Heart Surgery 2018; 9(2), 129.