Groundbreaking "Awake Aneurysm" Surgery Performed by Northern Italian Neurosurgeons
Italian neurosurgeons have ushered in a new era in brain surgery when, on November 14th, they performed their first aneurysm clipping operation with the patient awake.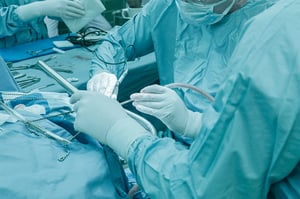 "Awake surgery," which until now been used by neurosurgeons for the removal of brain tumors in critical areas, has now expanded its reach to aneurysm clipping surgery. By having the patient awake during the operation, the surgical team at the Hospital S. Chiara in Trento, Italy was able to monitor not only the patient's primary motility and sensitivity but also the control of higher and more complex cognitive functions such as language, comprehension, processing of emotions, and vision as a metal clip was meticulously applied to a middle cerebral artery to close off a cerebral aneurysm. Performing the surgery while a patient is awake also lowers intraoperative risks of neurological deficits and ventilator associated morbidities.
Franco Chioffi, director of the operative unit of neurosurgery at the Hospital S. Chiara, explains that brain aneurysms are congenital or acquired ballooning of the walls of the cerebral arteries. If an aneurysm is not diagnosed and ruptures, a potentially fatal hemorrhage can result. Sometimes their discovery happens randomly following diagnostic tests performed for other pathologies such as headache, cranial traumas, and diseases of the carotid artery. If an aneurysm is detected before it ruptures, surgical clipping or endovascular obliteration are proposed to prevent a potential cerebral hemorrhage.
Cerebral aneurysm "clipping" surgery consists of positioning a metal clip close to the neck of the aneurysm, thereby cutting off the blood supply to the aneurysm. It is critical that flow in the cerebral vessel not be compromised by the clip. That is where intra-operative technologies such as video-angiography and flowmetry are invaluable. The Trento neurosurgeons used Transonic Neuro Flowprobes supplied by Iatrotek (cinzia.trincanato@iatrotek.com) to measure baseline flow in cerebral vessels before clipping the aneurysm and then to measure flows in the same vessels after the aneurysm has been clipped in order to assure that the clip had not compromised cerebral flow. Although such intraoperative controls such as video angiography, flowmetry, were used, it was only through the collaboration of the awake patient during the operation that the surgeons could be absolutely assured that there were not to be intra-operative complications during the aneurysm clipping procedure.
To date, only seven articles on this methodology have been published of which there was one series of 30 cases1. The remainder were individual case reports.
1Abdulrauf SI et al, "Awake" clipping of cerebral aneurysms: report of initial series. J Neurosurg. 2017 Aug;127(2):311-318.
https://www.ildolomiti.it/cronaca/2018/a-trento-la-prima-operazione-su-un-aneurisma-cerebrale-con-paziente-in-condizioni-di-veglia