Healthcare Tech and Trends for 2021
Of all the changes the current COVID-19 pandemic has brought to the healthcare system, there is one positive: technology within the industry has advanced at an even faster clip than before. Wearable devices that digitally record and report patient data, artificial intelligence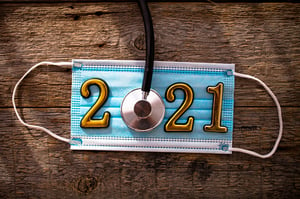 (and its use in training health care personnel), and the uptick in telehealth replacing face-to-face office visits all gained popularity in 2020 and will likely continue to pick up steam in the coming year.
Here are five healthcare tech and trends that will be heading patient care and streamlining how physicians practice in 2021.
Telemedicine
Patients can now receive in-office level care from their own homes, especially for routine appointments. The number of virtual doctor visits has exploded during the pandemic, and analysts at Forrester predicted the number of people using telehealth to hit one billion by the end of 2020.
The trend toward telemedicine not only reduces exposure to the coronavirus but also affords physicians the ability to fit more patients in their schedule. This is especially important in areas of the country, and the world, where physicians are in short supply.
AI and Machine Learning
Artificial Intelligence (AI) helps healthcare organizations gather information, more accurately predict outcomes, and facilitate care. Early diagnosis is essential in improving outcomes for patients with chronic and debilitating diseases. And AI can gather and process large amounts of patient information, improving the diagnosis-treatment-recovery cycles for many individuals.
AI is also advantageous in the administrative area. Both private practices and medical centers benefit from implementing AI in billing, workflow and patient data.
Machine learning (ML) offers a highly valuable method for obtaining and analyzing data. One of the chief applications of ML in healthcare is the identification and diagnosis of diseases and conditions that are otherwise difficult to discern. ML can help diagnose certain cancers in their earliest stages, as well as hard-to-diagnose genetic conditions.
AI and ML are extremely useful in medical imaging, both through diagnostic tools and image analysis. ML offers patients a highly personalized approach to treatment thanks to its deep learning diagnostics. Machine learning algorithms also improve radiotherapy by using several samples to diagnose and treat based on its findings.
Self-Monitoring, Apps and Wearable Devices
Nearly 80% of the cost of healthcare stems from the management of chronic conditions, according to an article published by BMJ Journals. As a significant portion of the population ages, self-monitoring solutions are vital to patient care.
Devices and apps that serve as heart rate sensors, oximeters, and sweat meters to check glucose levels in people with diabetes are already widely used in health care. Like popular exercise and fitness trackers, these self-monitoring apps and devices record information for better behavior modification by putting health management in patients' hands.
Digital Health Portals
From the computer kiosk in your practice's waiting room to your patients' ability to access their records, schedule appointments, and view lab results via a patient portal, digital health portals are helping maintain efficiency even in the face of a global pandemic.
National and international digital health portals are assisting researchers in compiling data to manage the coronavirus crisis. Beyond the 2020 pandemic, the implications for this type of shared data are sure to be beneficial.
Virtual Reality Technology for Treatment and Training
Virtual reality has many applications in healthcare.
For patients with anxiety over their hospital stay or an upcoming procedure, VR helps calm their nerves and soothe those who can't seem to relax. Physicians and surgeons who need to hone their skills or want a refresher course before a specific procedure can turn to VR. This method of training surgeons has proven much better than traditional training methods. In fact, surgeons who utilized VR training have a 230% performance boost over traditionally-trained peers, according to a UCLA study shared by the Harvard Business Review.
Neurology patients, such as those who've suffered a stroke, often need early intervention and physical therapy to regain lost function. By leveraging a gamified VR approach, patients are much quicker to respond to their physical therapy. VR therapy has been shown to improve movement in children with cerebral palsy, according to an article published by the Turkish Journal of Physical Medicine and Rehabilitation. Patients and physicians are sure to benefit from this healthcare technology now, and as the technology moves forward.
While there's still plenty of uncertainty ahead in 2021, one thing is for sure: technology is rapidly advancing and may help us overcome some of our most significant healthcare challenges yet.