Healthy People Program Tracks American's Health Indicators
In response to the emerging consensus among scientists and health authorities that national health priorities should emphasize disease prevention, a government-sponsored Healthy People program was established in 1979 to promote nationwide disease prevention.
Subsequently updated for Healthy People 2000, Healthy People 2010, Healthy People 2020 and in the planning stages for Healthy People 2030, the program recommends diets with fewer calories; less saturated fat, cholesterol, salt, and sugar; relatively more complex carbohydrates, fish and poultry; and less red mea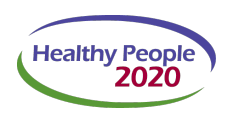 t and processed foods.
Designed to measure programs over time, the program has 467 specific objectives organized into 28 focus areas. The two primary goals are to increase the quality and years of healthy life and to eliminate health disparities.
Ten leading health indicators are tracked including:
physical activity
obesity
use of tobacco
substance abuse
responsible sexual behavior
mental health
injury and violence
environmental quality
immunization
access to health care
The campaign also identifies six major factors that contribute to disparities in Americans' health including:
gender
race or ethnicity
education or income
disability
geographic location
sexual orientation
Reference: