Surprising Facts Hospital Administrators Should Know About Hospital Spending and Pricing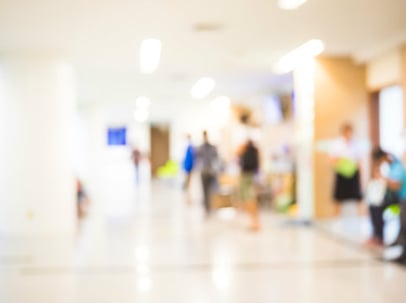 In 2013, healthcare costs accounted for 17.4 percent of the U.S. Gross Domestic Product.
The Health Care Pricing Project analyzed data from three of the five largest U.S. health insurers from 2007 to 2011 to reveal how hospital prices vary by geographic location. What it found was surprising. Here, we look at some of these surprising facts hospital administrators should know about hospital spending and pricing.
Location Matters
Amid a wave of hospital consolidations, the study found commercial health plans pay more to hospitals that have little or no competition. In fact, payments from private insurance companies were 15 percent higher for those hospitals than payments to hospitals in markets with four or more hospitals. This amounts to a $2,000 price difference per admission. The price difference can be attributed to the competitive market, according to one of the researchers.
Prices at hospitals that compete against two other hospitals were six percent higher than those that competed against four or more hospitals, and prices in markets with three hospitals were five percent higher than cities with four or more hospitals.
What does this mean for patients in markets with only one hospital? They are going to pay substantially more than those markets with several options. Take the costs of cesarean sections, for example. A C-section in one Oregon market was $15,000, while a similar operation in a market with a lot of competition—like St. Louis—can cost as little as $3,000.
What does this mean for hospitals? According to one of the researchers on the project, it means they can no longer defend their higher prices by attributing them to quality, seeing sicker patients or a greater number of patients on Medicare.
Mergers Might Not Be the Answer
Healthcare spending in Grand Junction, Colorado was widely lauded as a model for hospitals and healthcare markets across the nation. Grand Junction—with its large, integrated hospital system—spent significantly less on Medicare treatments without affecting people's health. Despite its low Medicare spending, however, Grand Junction is one of the most expensive healthcare markets in the country for those with private insurance. This has led researchers to doubt whether hospital mergers should be encouraged. Larger, integrated hospital systems like Grand Junction's can avoid duplicative treatments and less Medicare spending, but they also have the highest prices for private healthcare.
Other Factors Affect Price
The most important factor in price variation, according to the study, is the geographic variation in wages. For example, Medicare reimbursed a Palo Alto, California hospital almost $12,700 for a stroke with complications in 2011. For a medical center in Enterprise, Alabama, Medicare reimbursed $5,365 for the same episode. Hospital quality also can affect price as well as hospital attributes such as the number of high-tech services a hospital provides, mortality rates, readmission rates, reputation, amenities, ownership type and teaching status. However, the study notes, there is little evidence that shows a correlation between prices and clinical quality.
Going into 2016, policymakers will likely consider these research points, and patients will pay closer attention to pricing at facilities and an organization's reputation.