Hospital Spending is Down: 5 Things to Know
While healthcare organizations have continued to step forward, heroically meeting the needs of communities during the coronavirus crisis, hospital spending has plummeted.

In fact, physician and hospital care spending in April was at its lowest point in more than a decade, according to an analysis published by Altarum. And it's largely due to the COVID-19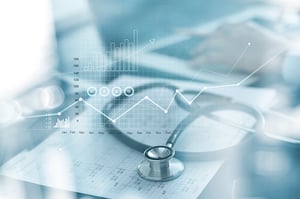 pandemic.
What's Causing a Decrease in Care Spending?
Amid the pandemic, hospitals and healthcare organizations continue to see a sharp decline in revenues. The downturn is attributed to several factors:
Cancellation of non-emergency procedures in an effort to conserve available PPE
Fear of contracting the virus is pushing patients to forego primary and specialty care
Since March, the Centers for Medicare and Medicaid Services (CMS) has recommended medical and dental organizations cancel all non-essential procedures to help control the outbreak and conserve valuable PPE.
Additionally, the cost of treatment for COVID-19 patients is high. Hospitalization, ICU admissions, and ventilator support are taxing healthcare organizations, even though many patients have health insurance.
5 Key Points About the Decrease in Hospital Spending
The fact that hospital spending has plummeted is no surprise — but it's still a cause for concern.

Here are five important takeaways, according to the Altarum analysis:
In April of 2020, hospital spending was $746 billion. That's a decline from $1.25 trillion spent during April 2019.
Physician and clinical services spending fell drastically from $748 billion in April of 2019 to $442 billion in 2020. This is the lowest physician and clinical services spending since November 2006.
Skilled nursing healthcare facilities spending was stable at $189 billion in April 2020, up from April 2019 spending of $177 billion.
Spending on prescription drugs increased $355 billion in April 2019 to $373.2 billion in April 2020. While prescription drug spending was up in April over last year, it was lower than March. Altarum theorizes this was due to a high number of individuals "stocking up" in response to local shelter-in-place orders.
Total national health spending in April 2020 dropped 24.3% from the same time last year. (The seasonally adjusted annual spending rate in April 2019 was $3.8 trillion. This was, at that point, the lowest amount in six years, since July 2013. The current seasonally adjusted annual rate is $2.9 trillion.)
What Does This Mean for the Future?
As the economy recovers from COVID-19, we could see a slight reversal in declining spending levels. As patients begin to feel more comfortable with the hospital and clinical environment, they will return to regular wellness visits and reschedule their elective procedures.
But it's important to note patients will likely return to care in waves, according to Jeff Lagasse, associate editor of Healthcare Finance.

The first group will likely be those in the greatest need of clinical services, such as oncology patients or those suffering impairment due to pain. The next group will likely be patients who don't consider themselves in a high-risk group for coronavirus (such as those who are younger or have a healthy immune system). This group will likely schedule minimally invasive procedures that won't require too much clinical follow-up.
It's up to physicians to reach out to patients who feel less safe due to higher perceived risk. These patients will likely require some discussion, ongoing assurances, and special considerations to pursue an elective procedure.

Eventually, a return of routine visits and procedures will bolster a steady stream of revenue.