How COVID-19 Impacted Value-Based Programs and Hospital Reporting
The COVID-19 pandemic has disrupted our healthcare system in countless ways — and it may be years before we realize its full impact, especially when it comes to reporting and value-based programs.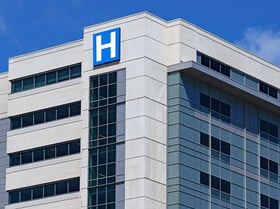 And as the pandemic continues, its effect on value-based programs and hospital reporting is wreaking havoc on what had been a hopeful way to assess and manage healthcare quality and costs for all.
The Purpose of Value-Based Programs
As in any business, hospitals and inpatient care centers often rely on data to determine what works and what doesn't. Value-based programs leverage data to help achieve healthier outcomes for patients and streamline expenses by reducing the need for expensive tests, procedures, and medication. They reward health care providers for the care they give patients — especially those on Medicare.

The goal of value-based programs is simple: improve the patients' quality of care through overall wellness and preventative treatments that, in turn, reduce costs and promote better outcomes. These programs were designed as part of a larger strategy to improve healthcare delivery in the U.S. by making healthcare proactive (instead of reactive).
Then came the pandemic.
How Covid-19 Impacted CMS Value-Based Programs
The value-based approach relies on provider participation. But, when the virus grew to pandemic proportions in March of 2020, the Center for Medicare and Medicaid Services (CMS) recommended clinicians prioritize care for COVID patients and place all other non-emergency care and routine visits on hold. Practically overnight, quality measurement and payment programs took a back seat.

By mid-March of 2020, hospitals began postponing all elective and non-emergency procedures, creating a hefty backlog.
To help limit the virus's spread, healthcare organizations focused on limiting contact between providers and patients — especially patients whose underlying conditions made them especially at-risk for severe complications from the virus. But as the pandemic raged on, patients with comorbidities like hypertension, diabetes, and obesity put off their routine care for several months.
Unfortunately, because these underlying medical conditions were unaddressed for so long, many patients now require additional or acute interventions such as bypass surgery, taxing an already overburdened hospital system, and putting the patient at risk for further complications.
Additionally, a lack of data means individual patients are often in charge of interacting with the health care system in their own interest. And without proper management, formerly non-emergent procedures rapidly become emergencies.

In short, the change of focus from routine patient care to pandemic-related emergencies upended CMS hospital reporting and had a tremendous negative impact on value-based programs.
Using the Crisis to Better Prepare for the Future
If there is a silver lining to all of this, it's that the pandemic shone a light on how the CMS program might be able to approach specific challenges going forward. For example, hospital purchasing habits (such as necessary PPE) must change to accommodate future crises. Healthcare organizations must embrace telehealth, and virtual physician visits should become mainstream for all communities. And communities must work together to accommodate shortages of equipment and beds.
While we still don't know the full impact of COVID-19 on hospitals and inpatient centers, understanding its effects on data helps ensure hospitals are not penalized for their delivery of care during a crisis that's still unfolding — and for the associated health repercussions to come.