How Patient Bias Impacts Care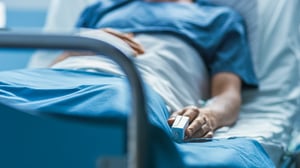 As a healthcare professional, you know the attitudes of patients can vary. Some patients are stubborn, some are rude and some may even become angry or hostile. Diffusing these situations can be challenging, but overcoming patient's emotional outbursts is an important factor in providing the best possible quality of care.

But what do you do when a patient becomes verbally abusive toward you or a colleague because of race, religion, gender, age or another attribute?
Here's how patient bias affects patient care, and how you can best respond to patients.
How Patient Bias Affects Patient Outcomes
Sixty percent of physicians reported that in the previous five years, they'd experienced some patient bias, according to a 2017 study published by Medscape. In many of these cases, the patient requested another physician.
In addition to the legal implications of failing to protect employees from patient bias, organizations stand to lose essential employees. After all, no healthcare professional wants to work for an organization where they're mistreated. And acquiescing to a patient's request for another physician can mean delaying their care, which can impact outcomes.
"Patients have a right to refuse care, but this right does not outweigh employees' right to be free of discrimination," writes Rahma M. Warsame, MD, and Sharonne N. Hayes, MD, in an article for the AMA Journal of Ethics.
In short, tolerating bias negatively impacts everyone involved.
How to Intervene When You Witness Patient Bias
To address patient bias, the Mayo Clinic developed something it calls the SAFER Model:
Step in when you observe behavior that doesn't align with the organization's values.
Address inappropriate behavior with patients or visitors.
Focus on the organization's values (For the Mayo Clinic, this is respect and healing).
Explain the organization's expectations and set boundaries with patients and visitors.
Report the incident to supervisors and document the event.
This policy helps prevent physicians and other healthcare providers, like medical students, from being subjected to racism and other forms of discrimination. It also shows employees the organization is dedicated to supporting and protecting them.
Of course, it's critical to recognize when to make exceptions and fulfill a patients' request for a different physician. For example, if a patient has a language barrier and would prefer a doctor who can better communicate with them; or in the case of sexual assault when a female patient may prefer a female physician.
By training your team on how to recognize and address abusive behavior from patients, you can create a safer culture for all physicians and healthcare professionals.