How Physicians Can Boost a Hospital's Online Reputation (As Well As Their Own)
Social media has completely changed the way companies engage with their audience — especially when it comes to building and maintaining a positive reputation. Today, it only takes one negative experience (especially one that's poorly addressed or ignored) to tarnish an organization indelibly.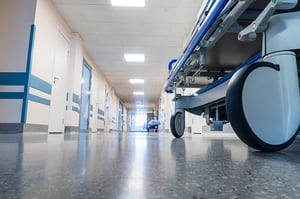 But this issue isn't unique to retailers and restaurants. Social media is capable of making or breaking any organization's reputation, including hospitals and private practices — and even physicians themselves. Given conversations are happening on these platforms with or without your intervention, it's in physicians' best interest to take them seriously.

Here's what you need to know to take control of your online reputation:
What Does Good Physician Presence on Social Media Look Like?
If you're not accustomed to using social media for professional purposes, you may not know where to begin. Here are three activities to focus on as you build your online reputation:

Ensure all information is accurate
Check sites like Healthgrades, Vitals and RateMDs, as well as your organization's Facebook page and Google listing to ensure all information (about you and your organization) is accurate and up-to-date. Make sure you've added a recent, professional headshot anywhere it's relevant — like review sites and any public social media accounts.

Avoid engaging in arguments
One of the worst things you can do for your professional online reputation is to engage in arguments or publish anything publicly that could be considered offensive or disrespectful. If someone posts a disparaging comment or review, avoid retaliating with something defensive or inflammatory. Instead, be thoughtful, professional and keep customer service top-of-mind.

Share relevant and helpful content
To build your social media presence and earn a following, be sure to contribute meaningfully. Share relevant news, articles about healthcare breakthroughs or innovations, or happenings within your own organization.
How to Create a Social Media Policy to Boost Your Reputation
Whether you're working to overcome a hit to your organization's online reputation or you're starting from scratch, it's essential you develop a thorough social media policy.

Prepare guidelines for responding to negative reviews
Define who will be responsible for responding to negative reviews, and ensure everyone involved has agreed on messaging. When addressing these reviews, always acknowledge the issue respectfully, and take the conversation offline. Remember: others are watching, and if you respond in anger or blame the reviewer, it will appear unprofessional and drive potential patients away.

Identify top platforms where you'll focus your time
There are dozens of social media platforms and review sites, and it's challenging to maintain a presence on all of these without a team of full-time social media specialists. Instead, choose a few places to concentrate your focus and peruse the others at least once a month to ensure you've addressed any outstanding questions or comments.

Keep personal accounts private
It's crucial you create a boundary between your personal and professional life online. Set all personal social media accounts (like Facebook and Instagram) to private, and request your peers do the same.
More than 3.8 billion people use social media globally, according to data from We Are Social, which is about 84% of all internet users. In other words, there's a good chance most of your current and prospective patients are active on at least one social network, and also leveraging third-party review sites to choose a physician. By adhering to a consistent social media strategy and ensuring you're keeping a professional appearance, you can build and maintain a positive online reputation.