How Surgical Residents' Views on Earnings Differ by Gender
The gender pay gap is nothing new. In 2019, women still only earned $0.79 for every dollar men made, according to a study from PayScale. And male physicians out-earn female physicians by up to 33%, according to a 2019 study by Medscape.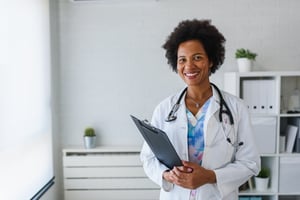 Many factors contribute to the gender pay gap, but a recent study sheds light not only on the discrepancy in pay, but the expectations held by male and female medical students regarding their salaries.
Salary Expectations by Gender
A 2019 JAMA study, which gathered responses from 427 general surgery residents across 19 different residency programs, showed that while male and female general surgery residents shared nearly identical career goals, their salary expectations differed significantly.
For career goals, both men and women, when asked, expressed the same expectations for entering fellowship, work hours, and even retirement age. Both genders expressed a desire to advance their careers by becoming program directors, department chairs, or earning recognition as leaders in their chosen field.
But when asked about their salary expectations for their first post-residency positions, men expected an average expected salary of $267,700, while women anticipated receiving a salary of $249,502 for the same position (a difference of more than $18,000).

The gap widened even more dramatically when medical students were asked about their ideal salary. Female general surgery residents gave an ideal of $334,709 — nearly $30,000 less than the salary men expected to earn ($364,663). When multiplied over the average 30-year medical career, that comes to an astounding discrepancy of about $900,000.
Female Physicians: Salary Expectations versus Reality
While the salary expectations shared in the study vary significantly between men and women, what's the reality?

The fact is, as physicians, women earn on average $105,000 less than their male colleagues, according to data from Doximity. And male surgeons, on average, earn $32,000 more than their female counterparts on an annual basis.

In other words, the existing disparity is often even more significant than medical students expect.
Facilitating Change in the Surgeon Pay Gap
According to the JAMA study, only 18% of women believe they possess the tools to negotiate an appropriate salary, while nearly twice the number of men felt they did. Women were also less likely to seek other offers to negotiate higher pay. (Just 70% of women would employ this tactic while 83% of the men polled said they would do so.)

Women seem to be less enthusiastic toward salary negotiations, which could, in part, contribute to the gap.
According to this study, not only are female surgeons paid far less than their male counterparts, but the next generation of surgeons holds expectations for the same gender gap in salaries. These findings should serve as proof of the salary inequities, both expected and achieved. By empowering both male and female medical students to ask for a fair salary, and negotiate to get the pay they deserve, the medical community can work to close the pay gap between genders.