How the COVID Stimulus Bill Could Affect Physician Payments
In case you missed it: Late in the evening of Dec. 21st, 2020, Congress passed a COVID-19 relief bill that contains numerous provisions for the healthcare community and, in particular, physician practices.
The meat of this $1.4 trillion spending bill is a catch-all appropriations measure that addresses pandemic relief for individuals, small business, transportation and schools. The bill included funding for critical public health programs, including those that help facilitate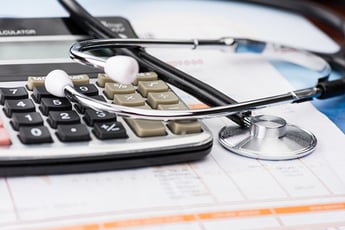 vaccine distribution.
So what does this mean for physicians, exactly? Here's what you need to know:
The Good News: An End to Surprise Billing
Most physicians will be pleased to know the stimulus bill aims to end surprise billing. Under this provision, providers now have 30 days to work out a payment agreement with insurers following an out-of-network bill. If they don't reach an agreement, providers can request binding arbitration.
Rep. Frank Pallone (D-NJ), chairman of the House Energy & Commerce Committee, and Rep. Anna Eshoo (D-CA.), chairwoman of the Energy & Commerce Health Subcommittee, said the provision "represents the most significant expansion of patient protections since the passage of the Affordable Care Act. The omnibus reinvests the federal government's savings from cracking down on surprise billing into long-term funding for public health programs including Community Health Centers, Teaching Health Centers, and the National Health Service Corps," according to MedPage Today.
The (Potentially) Bad News: Bottleneck for Arbitration Access
Despite how the stimulus bill addresses relief and economic support for individuals and small businesses suffering due to the pandemic and how it benefits physicians seeking a resolution to out-of-network charges, not everyone appreciates the changes.
The American College of Emergency Physicians (ACEP), for example, sees the surprise billing provision as a positive step, but also expressed some concern the bill's included "cooling off" period could create a slowdown for access to arbitration.
The organization worries about how this potential bottleneck might impact smaller emergency centers, especially those located in underserved and overwhelmed rural communities. ACEP says it will work with Congress to help ensure small and independent practices aren't left at a disadvantage.
The Lukewarm News: Updated Medicare Physicians Fee Schedule
The stimulus bill changed key parts of the Medicare 2021 policy and, while primary care physicians were slated to benefit, specialists would lose on the previous deal. Here's how:
The 2021 Medicare Physicians Fee Schedule (PFS) increases the work relative value units (RVU) as well as fees for office and outpatient services, which supports primary care. Because the Center for Medicare and Medicaid Services (CMS) is required to maintain budget neutrality, the burden falls on medical specialties. CMS has projected decreased revenues for specialty practices performing particular procedures or services, and increases for primary care practices.
There is somewhat good news, though. The COVID-19 stimulus bill alters the Medicare PFS and delays a newly introduced code (G2211) for three years. Funds initially earmarked for the add-on code will instead be used to increase the conversion factor, which was set to decrease conversion by 10% in the 2021 PFS. Removing the payment will mitigate the decrease in the conversion factor by roughly 3%, according to Medscape.
The Bottom Line
Ultimately this late-night Congressional bill will impact all physicians' practices. The increase in office visit RVUs and the boost to conversion factors is a welcome bit of news for everyone. And the AMA estimates that most specialties affected will either see no difference or see positive changes to their fees for 2021. Congress has halted all decreases in fees projected by CMS — at least for now.