How to Improve Doctor Patient Communication: 4 Tips
Doctor patient communication is one of the most important parts of clinical practice, and also one of the most misunderstood. As the U.S. National Institutes of Health notes, providers in various fields — from the emergency room to surgery clinics — struggle with finding the best ways to effectively communicate with patients.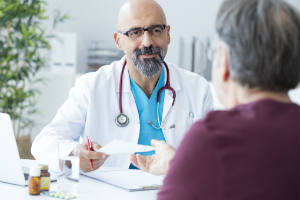 This explains why 65 percent of medical schools have added communication skills to their core curriculum. By learning techniques for engaging with patients, medical students and graduates are better equipped to deliver quality care and establish long-term relationships.
To improve doctor patient communication, it's important that today's physicians follow these same best practices.
Use Simple Language
Clinical terms are used regularly in conversations between doctors. But when these terms are used in patient communications, they can easily lead to confusion and misinterpretation.
Take benign and metastatic, for instance. In one clinical survey, 33 percent of patients responded that they didn't know the meaning of benign, while just 6 percent were able to correctly define metastatic.
By replacing this medical jargon with simpler language, physicians can better inform patients of diagnosis and treatment details, encouraging more successful outcomes.
Be Direct
When negative news is communicated to patients, it's natural to want to soften the delivery. Physicians may find themselves using euphemisms for this purpose.
While these substitutions serve as a buffer in delivering the information, they can be misleading to your patients. They may not fully realize the significance of their illness or the urgency to start treatment.
Using more direct communications may keep patients informed and prompt more effective decision-making.
Encourage Questions
Questions are a natural part of any doctor visit, whether it's about the results of an exam or a treatment plan. Physicians can create a calm environment where patients are encouraged to ask questions.
With a more open dialogue, patients can get the answers they need and take on a larger role in the decision-making process. They may also see their doctors as more caring and interested in their needs.
Be Empathetic
Doctor visits can make a lot of patients anxious. They might voice these concerns directly to the physician or it may come across in nonverbal cues like body language.
In either scenario, it's important for physicians to acknowledge these feelings and be empathetic. Actively listen to their concerns and place yourself in their shoes. This will help ease the worries of patients and improve their overall satisfaction.
Make Doctor Patient Communication Meaningful
When communication improves between doctors and patients, the benefits are clear. Not only can it have a therapeutic effect on patients and improve their satisfaction, but it can also translate into better outcomes for their health.
Incorporating the above best practices into your communications may help foster a stronger physician-patient relationship.