7 of the Most Influential U.S. Physicians and Healthcare Leaders
As a physician, your work is inherently influential: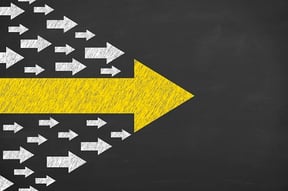 You profoundly impact the lives of your patients and their loved ones on a regular basis. Like most healthcare professionals, you're not in this line of work for the glory and praise, but rather for the opportunity to make a lasting difference and improve the lives of the patients under your care.
However, several physician leaders stand out above the others and, every year, Modern Healthcare chooses50 influential physician executives and leaders
To get a taste of the sort of brilliance on their list, check out these seven powerful physicians and healthcare leaders:
David Feinberg
Role: President and CEO of Geisinger Health
Why Mr. Feinberg is influential: Becoming the first health system to announce linking patient medical records with the Apple Health app is one of David's chief accomplishments over the past year. But if that isn't enough, Feinberg also signed a plan to spend a chunk of the organization's budget on sequencing DNA to improve patient outcomes.
Leana Wen
Role: City of Baltimore Health Commissioner
Why Dr. Wen is influential: As health commissioner for nearly four years, Leana has worked on the forefront of the battle against Baltimore's opioid addiction crisis. She filed and won a suit against the federal government after it canceled funding to her department's teen pregnancy prevention programs.
Sue Desmond-Hellmann
Role: CEO of the Bill & Melinda Gates Foundation
Why Dr. Desmond-Hellmann is influential: In one year, Sue led three significant efforts for her organization. First, the foundation managed to secure donations for 207 million drug treatments for patients with tropical diseases in one day. Additionally, the foundation made considerable waves in helping eradicate Polio and boosted global efforts to improve women's health, including funding for critical contraception.
Tejal Gandhi
Role: Chief Clinical and Safety Officer of the Institute for Healthcare Improvement
Why Dr.. Gandhi is influential: In 2018, Tejal focused much of her energy on patient advocacy efforts, including managing the creation of a national committee on patient safety. Tejal helped bring together 23 organizations such as the Food and Drug Administration and Joint Commission to strategize on reducing patient harm.
Sylvia Trent-Adams
Role: Health and Human Services Deputy Surgeon General
Why Rear Admiral is influential: Currently working as an advisor to the surgeon general on advancing evidence-based care, Sylvia has worn many hats over the course of her career with HHS—including advocating for improved care for underserved communities.
Paul Tang
Role: Vice President and Chief Health Transformation Officer at IBM Watson Health
Why Dr. Tang is influential: Paul has spent much of the year focused on spearheading efforts at IBM Watson to apply artificial intelligence technology to drive and enhance personalized medicine. This innovation could dramatically change and improve the face of medicine in the not so distant future.
Bruce Siegel
Role: President and CEO of America's Essential Hospitals
Why Dr. Siegel is influential: Bruce and his organization joined other hospital trade groups in efforts to delay Medicare disproportionate-share hospital cuts for two years, and he led a fight to protect against proposed cuts to the federal government's 340B discount drug program.
This is just a small sampling of the top 50 most influential physicians of 2018. Most of the list includes healthcare leaders and doctors in America who embrace innovation, leverage new healthcare technologyand take the opportunity to speak out on behalf of those who need their help most. While the industry faces a mountain of uncertainty and change in the months ahead, one thing is for sure: those who advocate in the best interests of their patients will always stand out ahead of the rest.