Interesting Stats on Physicians Lifestyle and Happiness
As a physician, how much time do you devote to your personal life? If you're like most doctors, you might find that most of your time is devoted to your practice. Medscape recently surveyed doctors from a variety of generations — Millennials, Gen X and Boomers — to see what they focus on during their downtime, how they handle stress and how they attend to their own health.
Here are some interesting findings:
The Happiest Outside of Work: Rheumatology and general surgery ranked as the happiest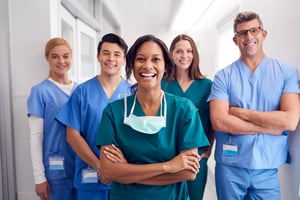 specialties outside of work (60%) followed by public health/preventative medicine and allergy and immunology. (59%). The least happy specialties outside of work were critical care and neurology (44%).
Top Specialties by Generation:
Millennial:
Gen X:
Boomer:
Pulmonary medicine
Public health and preventative medicine
Urology
Plastic surgery
A physician recruitment firm notes that today's medical school graduates are seeking high-paying specialties to help offset their debt and specialties that have predictable schedules.
Cannabis/CBD use: Though CBD and cannabis use is increasing, it is not surprising that 93% of physicians report not using either substance recreationally or medically. Six percent of Millennials and 4% of Gen X and Boomer physicians report they would use either substance if it became legal in their states.
Exercise: Most physicians report they exercise two to three times per week. Data from the report show that older physicians are more likely to work out four days a week or more (37%). The survey found that Millennials were most likely to not work out at all or only work out one day a week.
Social media use: Though physician practices and hospitals can benefit from social media, many physicians surveyed regardless of generation, spoke of social media's downsides. A Baby Boomer surgeon reported they feel patients who use social media/the internet feel they're smarter than the medical community. A Generation X physician reported they are often less frank with patients for fear of patients leaving bad reviews.