Intern Physicians are at High Risk for PTSD. Why?
Around 70% of people worldwide experience a traumatic event in their lifetime, according to survey data from the World Health Organization (WHO). About 6% of those people develop post-traumatic stress disorder (PTSD) as a result.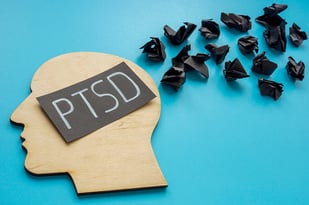 Research has found that healthcare professionals can experience PTSD from their jobs. A recent study found that physicians are at risk of PTSD from "patient critical illness and death, serious medical errors and complications, treating people exposed to natural and human-generated disasters, workplace violence, and hazardous exposures (e.g., the COVID-19 pandemic)." And, in particular, intern physicians are at very high risk, according to a recent study released in JAMA.
What is PTSD?
PTSD can result from any traumatic experience and is most common with violent traumas like accidents, disasters, wars or physical or sexual assaults. It can develop after either experiencing or witnessing a traumatic event. And changes in the diagnostic criteria for PTSD from the Diagnostic and Statistical Manual of Mental Disorders (DSM-5) now recognize that traumatic work experiences can be a qualifying event for PTSD.
Why are Intern Physicians at Risk?
Researchers found intern physicians are at increased risk for experiencing PTSD because "They typically have the greatest responsibility for front-line clinical care with high patient volumes and lack the training and experience of more seasoned physicians."
Of the 1,134 study participants, over half (56.4%) reported experiencing work-related trauma, and 19% of those screened positive for PTSD.
In addition to job-related factors mentioned above, the study found the following had an influence on whether an intern physician experienced trauma:
Specialty: Emergency medicine intern physicians experienced the most trauma (74%). Pediatric intern physicians followed close behind with (71%). Anesthesia interns reported experiencing the least amount of trauma at 43%. Of the specialties that experienced traumatic events, 30% of pediatric interns developed PTSD, 25% of family medicine interns developed PTSD, while only 7% of OB/gynecology interns developed the condition.
Other factors: Researchers also found the following factors played a role in whether someone developed PTSD:
Non-Hispanic White race
Early stressful family environment
Being unmarried
Previous stressful events with trauma exposure
Depression or anxiety at month 12 of internship
Higher number of hours worked (researchers posit this is due to more possible exposure to traumatic experiences)
What Can Be Done?
Discussions about mental health are limited, notes study author Dr. Mary Vance, assistant professor of psychiatry, Uniformed Services University, Bethesda, Maryland.
While burnout, depression and suicide are becoming more recognized occupational hazards, there is not much discussion or fixes being done to help mitigate it.
Dr. Lotte N. Dyrbye, professor of medicine and medical education at the Mayo Clinic, noted that if frightening or traumatic events do occur, faculty should be prepared to support resident trainees throughout the process.
Dr. Dyrbye said these approaches "should coincide with organizational efforts to support individual trainees by providing adequate time off after traumatic events, ensuring trainees can access affordable mental healthcare, and reducing other barriers to appropriate help-seeking, such as stigma, and efforts to build a culture of well-being."