What to Know About International Locum Tenens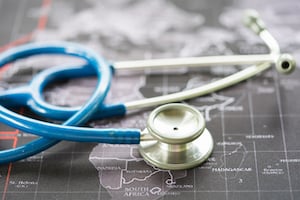 As a physician, jetting off on lengthy trips abroad to immerse yourself in new cultures can seem a far-fetched dream — something only available to those with careers that allow them to work remotely. After all, in this occupation, taking extended vacations can be tricky.
But there is a way you can travel and work. International locum tenens offers physicians an opportunity to combine their passion for practicing medicine, their desire to help underserved populations and scratch their itch for international travel.Here is some useful information to help you decide whether taking international locum tenens assignments is the right next step for your career.
How Does International Locum Tenens Work?
In most cases, locum tenens physicians cover for regular physicians when those doctors have to take a prolonged absence or when hospitals are short-staffed. Many doctors associate locum tenens with U.S. placement, where assignments usually last anywhere from a few shifts to a few months, but there are plenty of international locum tenens opportunities, too.Before you can take an international locum tenens assignment, you'll have to complete a significant amount of paperwork to transfer your credentials. Generally, U.S.-board certified physicians can transfer as an international medical graduate, but you may not be able to practice internationally without supervision (even if you have several years of experience). Additionally, you'll need to coordinate travel, housing and malpractice insurance, though staffing agencies will often help manage these details.
3 Signs International Locum Tenens is Right for You
Locum tenens jobs aren't for everyone. Upheaving your entire life and moving across the world can be especially challenging for those who have personal obligations at home. But for some physicians, this kind of work can be a dream come true. Here are three signs it may be a good choice for you:
You're seeking better work-life balance For U.S. physicians, taking international locum tenens work often means fewer hours on the clock. "A major benefit for U.S.-based physicians is that the workload is often lighter for international locum tenens doctors, who are typically on for a standard eight-hour day, five days a week," says Tyler Black, president of Global Medical Staffing, in an article for Physician's Weekly. "Also, the patient load can often be lighter for international locum tenens physicians, who may see around 20 patients per day, compared with the 50 patients per day they may see in the U.S."
You want an opportunity to explore a new country for extended periods In most cases, international assignments are longer than positions within the country. While many U.S.-based assignments may only last a couple of months, international assignments often last several months to a year — or even longer if the physician and hospital agree to extend the agreement. And with assignments in locations like Australia, New Zealand and the Virgin Islands, you'll have plenty to see and do during your stay.
You're passionate about helping underserved populations Healthcare organizations located in rural and underserved areas are often understaffed and are almost always in need of locum tenens physicians. Working in these areas can be especially gratifying as you'll have even more of an opportunity to make a difference.
Working as a locum tenens physician can be an excellent way to explore more of the world while also doing fulfilling work. By taking time to understand how these assignments work and weighing the pros and cons, you can decide whether you're prepared to take one of these adventurous opportunities.