Common Causes of Medical Malpractice Suits Against Surgical Residents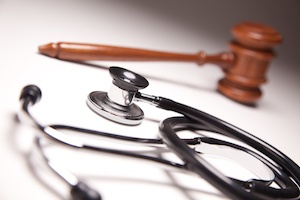 Patients file medical malpractice lawsuits against physicians for several reasons: failure to diagnose a condition, injury during treatment, failure to treat a condition, poor documentation and medical errors.
A recent study published in JAMA Surgery found surgical and junior residents are particularly vulnerable to these lawsuit filings. During a 10-year period, 87 malpractice cases involving surgical trainees were identified by Westlaw, an online legal research database containing legal records from across the United States
Researchers discovered most malpractice claims filed against surgical residents involved their focus on perioperative knowledge and their decision making.
Seventy percent of the cases came from elective surgeries and the most claims were filed against the following specialties:
General surgery — 54 percent

Orthopedic surgery — 21 percent

Gynecologic surgery — 13 percent

Urologic surgery — 5 percent

Neurosurgery — 5 percent
Why claims were filed
The majority of claims were filed as a result of either patient death or injury. Fifty-one percent of the claims involved nonoperative decision-making errors during the postoperative phase. Other causes included intraoperative errors or injuries and nonoperative decision-making errors or injuries.
Interestingly, malpractice claims were filed in 10 cases in which the surgical resident made a care decision, like increasing the dose of or changing the patient's pain medication, without evaluating the patient in person. These cases had disproportionately high payouts with the average being $1,203,000 in favor of the plaintiffs.
The attending physician's role
In 48 of the 87 malpractice cases, a contributing factor was insufficient supervision of surgical residents by attending physicians.
'"...the attending physician's failure to appropriately supervise part of an operation in person was cited," the authors write. "Three cases claimed that intraoperative injuries were the result of residents becoming anatomically 'lost' without an attending physician present."'
Cases focusing on junior surgical residents often cited the residents' inexperience.
Reducing the risk
In addition to providing better supervision for residents, researchers suggest residents and their attendings should be aware of their emotional well-being. Physician burnout is associated with a recent malpractice suit, and nearly 69 percent of surgical residents meet the criteria for burnout.
The American College of Surgeons recommends implementing the following practices to improve resident learning and supervision:
Use preoperative and postoperative briefings

. These briefings allow the resident and attending to identify "learning objectives before a case and integrating them with educational briefings and debriefings facilitates a guided learning process for the trainees, as well as a structured, targeted teaching model for the surgeon."

Use a teaching model like the Zwisch Model

. This model provides "faculty and residents with specific stages of supervision allowing for adequate, safe training in a graduated manner to develop fully trained surgeons."

Focus on teachable moments.

Most teachable moments occur, researchers found, after the resident commits an error.

Use operative performance assessments.

Focus not only on technical mastery, but also how the resident moves and interacts with his or her surgical team.

Use video-based assessments.

Using video to assess a resident's surgical skills, technique and performance allows for a more extensive debriefing and analysis.
By taking steps to improve resident training and providing adequate supervision, physicians can help lessen the possibility of their students being involved in a malpractice suit.