Miriam Tenorio Named President and CEO of Transonic
Transonic named Miriam Tenorio president and CEO of its family of companies. Miriam succeeds Transonic founder Cor Drost who served as President and CEO since the company's founding in 1983.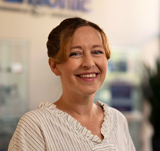 Cor will continue to be involved with Transonic, serving as the Chief Technology Officer where he will continue to use his biomedical ultrasound engineering innovation expertise.
Before being appointed President and CEO, Miriam served as Transonic's Vice President of Marketing. She will maintain this position, and Tim Callahan, who served as surgical product marketing manager will assume some of her marketing responsibilities. Tim has been promoted to Director of Clinical Sales and Marketing.
During her tenure as VP of Marketing, Miriam initiated and directed numerous significant corporate changes. She launched a full company rebranding initiative followed by a redirection of our worldwide outbound marketing methods to include new inbound and digital marketing initiatives.
She also led the user needs-driven development of two next-generation products and implemented intense marketing involvement in the next-generation development plans of the future meter lines. Most recently, Miriam has tackled challenging regulatory and quality system updates to support the new EU MDR regulations and FDA new product approval process.
"I am incredibly proud of the Transonic team for meeting the challenges of the pandemic, and for embracing change over the last few years. I am also very honored to be chosen to lead Transonic into the future; I have some big shoes to fill as Cor has been the heart and soul of Transonic since its inception," Miriam said. "My focus will be on reinforcing Transonic's mission, 'To Advance Meaningful Measurements,' and on continuing to build a solid foundation so that we can meet the needs of the future. We have always been a company that redefines paradigms…we bring new measurements solutions to a wide variety of disparate markets that are all the first of their kind. We know that at the end of the day, our customer's work and results are what matters the most."
She continued, "I look forward to maintaining the core values that have made Transonic what it is today and adding support and focus to help us continue to serve our customers and partners for the coming decades."
Despite COVID-19 hardships, Transonic realized record sales in FY2021. Transonic is an essential business and remained open during the initial wave of the virus and remains open today.
Through the implementation of strict COVID prevention protocols, Transonic is proud to report that there has not been any employee-to-employee transmission of the virus at Transonic's Ithaca headquarters. The Transonic team met the pandemic with incredible dedication and a rapid switch to virtual marketing, sales, and customer support initiatives that allowed Transonic users to receive their usual hallmark Transonic support.