New Information on the Physician Shortage
In 2018, the Association of American Medical Colleges (AAMC) estimated a maximum physician shortfall of just under 122,000 physicians, according to data we shared about the looming physician shortage. This alarming disparity shocked the healthcare industry, with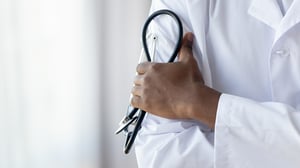 many desperately seeking solutions to close the gap.

As of today, those projections have grown even larger.
In July 2020, the AAMC released new numbers, putting the shortfall of U.S. physicians in the range of 54,000 to 139,000 by 2032.
Why is the gap growing larger, and how does the pandemic impact these numbers? Here's what you need to know:
What Factors are Impacting the Shortage?
Several things are contributing to the growing shortfall. Here are a few of the most influential factors:
The U.S. population is aging
It's no secret doctors' visits increase as you age. Today, our population is getting older (meaning the number of people turning 65 exceeds the number of people born each year). In fact, the number of people over 65 is expected to grow by more than 45% by 2033.

More physicians are approaching retirement age
Another byproduct of the aging population is that physicians are getting older, too. More physicians are approaching retirement age, and there aren't enough new physicians to replace those leaving.

Technology increasing access to care
"The projections for the demand on physician services in the future are based on current levels of medical use by all population groups — including those with less access to care, such as some minorities and people living in rural areas," says Patrick Boyle, a

staff writer for the AAMC

.

Assuming we make healthcare access more equitable and continue leveraging technology like telehealth, the demand for physicians will only continue to grow.

Increasing rates of physician burnout
With more demand, longer hours, and increasing responsibilities placed on physicians' shoulders, doctors are at an increased risk for burnout — which could push older physicians to retire at 65 (rather than working longer), and could also push younger physicians out of the profession altogether.
How COVID-19 Highlights Shortage Concerns
Of course, it's important to note the study was conducted in 2019 and predates the COVID-19 pandemic. Since then, the global public health crisis has underscored existing challenges and highlighted new issues. For example, coronavirus has proven the need for more specialized professionals on the front lines. And the pandemic's disruption of American medical colleges' classes, exams and clinical rotations could delay medical students from entering the workforce.
So, what's the solution?
Currently, the AAMC is pushing for increased Medicare support for 3,000 residency positions over the next five years through the Resident Physician Shortage Reduction Act of 2019. Additionally, it's asking Congress to provide federal funding for graduate medical education by ending the current freeze.

Without immediate and significant change, the shortage could spell serious trouble for U.S. patients and the physicians who care for them.