How to Prepare for the New Surprise Billing Rules
Signed into law as part of the COVID-19 relief legislation, the No Surprises Act is a new federal act that provides surprise billing protections for consumers. As part of this new law, which goes into effect on Jan. 1, 2022, it will be illegal for providers to bill patients for more than the in-network cost-sharing amount due per patients' insurance plans. In addition, billing for all out-of-network services, except ground transport by ambulance, must be calculated as if they were in-network.
What exactly do you need to know, and how can you prepare? Today, we're delving in.

What Prompted the No Surprises Act?
Two-thirds of U.S. adults worry about unanticipated medical expenses, according to a recent Kaiser Family Foundation poll, outranking other healthcare concerns or rising household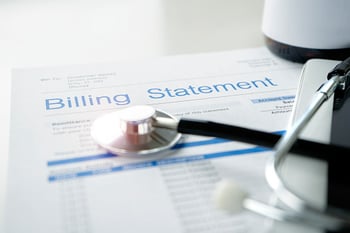 expenses. The No Surprises Act is designed to prevent unexpected billing and ease consumers' minds.
Currently, elective care patients can choose the network hospital and provider under their healthcare plan. And any ancillary clinicians, such as anesthesiologists and surgical assistants, can contract separately with insurers, which often results in an out-of-network payment higher than the network rates. The No Surprises Act will prevent that from happening. In-network cost-sharing for these bills must be based on the in-network median amount under the plan for similar services.
What Providers Need to Know Now
While the new legislation aims to protect patients from unexpected billing for non-network medical services, hospitals and providers will have to revamp their revenue cycle processes to conform to the new regulatory requirements.

Here's what you need to know:
Health Plans Cover Surprise Bills at In-Network Rates
The legislation requires health plans to cover surprise bills for emergency services, including air ambulance and out-of-network provider services at in-network medical facilities. Surprise bills must be covered without prior authorization.
The Act Prohibits Balance Billing
Out-of-network providers and emergency services are prohibited from billing patients beyond in-network cost-sharing. This rule also applies to out-of-network clinicians who provide services at network hospitals or other medical facilities.

The only exception is if a provider gives 72 hours notice to a patient in writing, and the patient authorizes these services, also in writing. However, this exception does not apply to ancillary services such as anesthesia, diagnostics such as radiology and lab, or other services specified by the legislation.
Out-of-Network Providers May Not Bill Patients for Excess Charges
Providers "shall not bill and shall not hold patients liable" for charges exceeding the in-network cost-sharing amount for the services they provide. This places the burden on any non-participating providers to determine a patient's health plan status and the in-network cost-sharing for the surprise bill.
Oversight and Enforcement Activities Are Required
Private health plans must follow the same rules as those that apply under the Affordable Care Act (ACA). Under health plans regulated by state laws (fully insured-employer-sponsored plans and non-group health plans), states may enforce federal requirements. But if states fail to enforce these requirements, enforcement falls to the federal government. The federal government has the primary responsibility to oversee self-insured group health plans, which cover nearly half of all those who have job-based coverage.

If providers and hospitals violate the act, the federal government can enforce penalties of up to $10,000 per violation. For states that have enacted their own state laws regulating medical surprise billing, those laws will not be preempted unless the state fails to enforce it.
An Independent Dispute Resolution Process Will Handle Arbitration
If a provider and the health plan cannot negotiate a payment amount after 30 days, the parties may enter into an independent dispute resolution (IDR) process. In this arbitration process, both parties must submit a final offer within 30 days, and the IDR entities will determine which offer is most reasonable. The losing party is then required to pay for the arbitration process, and all arbitration outcomes will be publicly reported each quarter on the HHS website.
Stay Aware of Developments to Come
The No Surprises Act will significantly alter how some healthcare providers practice, but it's important to recognize the law is still a work still in progress. You can expect more developments as HHS hammers out the details and prepares for implementation in the coming months.