Chinese Surgeons: Off-Pump CABG Surgery Safe With Y-Graft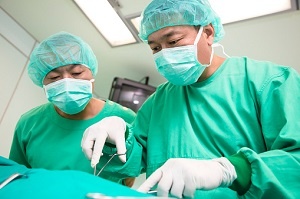 Beijing surgeons achieved total arterial myocardial revascularization in 208 patients through evaluation of the early outcome of off-pump coronary artery bypass grafting (OPCAB) with a bilateral internal mammary artery (BIMA) Y-configuration graft. The patients ranged from 33 to 78 years old. The average age was 56. Of the total, 80.2% had triple-vessel disease; 15.9% cases had left coronary disease, and 3.9% had double-vessel disease.
Two internal mammary arteries were harvested from each patient. The free right internal mammary artery was anastomosed end-to-side to the in situ left internal mammary artery to create a Y-configuration graft. The coronary artery bypass surgery was performed off-pump with sequential anastomoses. A total of 728 distal anastomoses (3.5±1.3 per person) were constructed. Graft patency was assessed by a Transonic transit time flowmeter after completion of each anastomosis.
The surgeons concluded that off-pump CABG surgery with use of a bilateral internal mammary Y- graft is a safe and effective method to achieve total arterial revascularization. Such surgery avoids cutting into the ascending aorta, and other incisions in the legs or arms.