Patient Experience During COVID-19: What to Know
Few payer and healthcare systems were prepared for COVID-19's impact. The pandemic caused health systems to cancel elective procedures and rework policies and procedures in order to treat COVID patients and keep others safe, While some may like the changes, in many cases the patient experience was negatively impacted.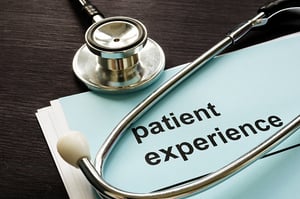 As the pandemic changes and elective procedures are reinstated, patients who have delayed care are considering returning to your facilities. To be successful in this new world, patient experience must be made a top priority. Think of it this way: Patients need convincing to re-enter the healthcare system, and patient experience is going to be an important catalyst for patients returning to your facilities.
What Patients are Looking for in a COVID World
Accenture surveyed patients to find out what they're looking for from healthcare providers during the pandemic, and many reported that they will switch care if their provider does not provide them with a safer, secure, more convenient experience.
Here's more from the survey:
1 in 4: Patients who believe their healthcare provider or health system did not handle the pandemic well will not return for care or will wait at least one year after COVID restrictions are lifted.
Sanitary and safety protocols: 64% of patients said they are highly likely or likely to switch providers if their current provider did not meet the patient's sanitary and safety protocol expectations. "Personalized communications and targeted outreach should make clear to consumers what providers are doing to deliver care safely," Accenture notes.
Time is of the essence: Given the large number of patients who reported they will not return to their providers for at least a year, there's an opportunity for you to attract these patients. Accenture says to look for those patients who:
Have historically been loyal to a competing health system
Are rethinking their loyalty and looking for a provider who can provide the best care experience
Are highly willing to switch for better leading sanitary and safety protocols
Are seeking regular, transparent communications and seamless virtual visit options
Ways to Elevate Patient Experience
Use Personalized Messaging to Alleviate Concerns: Communicate how your facility is following guidelines and keeping patients safe. Because patients trust their physicians more than health systems, messaging should come from physicians instead of the organization, if possible. 51% of patients trust messages from their physicians, whereas only 42% trust messages from health systems.
Enhance Virtual Care: Though the pandemic accelerated the shift to virtual care, many patients were looking for the option before COVID-19. Over half of consumers surveyed (58%) reported they're likely to use virtual care instead of going to the doctor or hospital. Try optimizing and enhancing your virtual care delivery, making it more accessible to all patients. And for those who may need help with technology, offer guidance for how to operate the technology needed for a visit.
Use Social Channels: Using your social channels to listen to how patients talk about COVID-19, may provide a sense of where you need to clarify things. For example, one medical center found patients were confused over the symptoms of COVID-19, allergies and colds. To remedy this, the institution published content on the differences. Helpful content can alleviate fears, educate patients and let them know how and where they can seek care if they have questions.