Paying Tribute to Healthcare Workers in the Wake of COVID-19
From applause erupting outside of medical centers and flyovers by the Thunderbirds and Blue Angels, people and organizations all over the country, and around the world, are showing their gratitude for members of the medical community amidst COVID-19.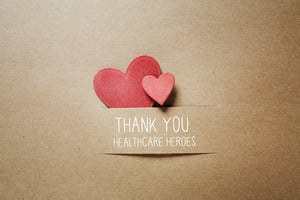 Forget Wonder Woman and Superman. The true heroes in the face of coronavirus are the doctors, nurses, and support staff who have spent the last few months working tirelessly to fight the most significant public health crisis of our time.
At Transonic, we are also grateful for the sacrifices healthcare workers and medical system support staff are making, all day, every day.

Here's a look at how people around the country and across the globe are saying "Thank you."
Artistic Tributes
Along one of Tijuana's busiest highways, artists painted a 40-foot mural outside of the Clinica Libre rehabilitation center, according to The San Diego Union-Tribune. The vibrant mural depicts doctors and nurses, some wearing angel's wings. The artist who organized the mural painting says it's a way to honor those who sacrifice themselves every day for the community's health.
"If with a mural we can identify a moment when we turned something negative into something positive, I think it is worth remembering," said muralist Enrique Chiu.
In Durham, NC, Duke University displayed a glass model of the coronavirus by British artist Luke Jerram. The sculpture was designed to highlight the tremendous efforts of the worldwide healthcare community.
"This artwork is a tribute to the scientists and medical teams who are working collaboratively across the world to try to slow the spread of the virus," Jerram says in an article for The London Economic.
Online Tributes
Many hospitals are providing spaces online, typically on their websites, where patients, patients' loved ones, and the general public, can thank their staff.
Catholic Health Service of Long Island asked people to send a letter or 20-second video via email and published the tributes on a frequently updated blog post.
Similarly, the University of Chicago Medicine created a form anyone can use to submit a message of encouragement or appreciation to its hospital workers.
Celebrity Salutes
Renowned Cellist YoYo Ma posted a musical tribute to healthcare workers via his Twitter account. He played a rendition of Sarabande from Bach's Cello Suite No. 3 accompanied by the words: "This is for the healthcare workers on the front lines. Your ability to balance human connection and scientific truth in service of us all gives me hope."
Additionally, actress Ellen Pompeo, who plays Dr. Meredith Grey on "Grey's Anatomy," took time to pay tribute via Instagram.
"Many of us have the privilege to self-quarantine and isolate and try to stay healthy, and none of you have that privilege," she said. "So this is just from me and my family to all of you to say thank you. We appreciate you, we love you. Stay safe."
Cities Light it Blue
On April 9, 2020, in major cities across America, skyscrapers, bridges, stadiums, and other structures lit up in blue at 8 p.m. to honor those on the front lines, as part of the Light it Blue campaign.
Organizers expressed the desire to create "one giant hug," according to CBS News, for all those healthcare and essential workers performing their jobs during the COVID-19 crisis.
Shopping malls, building marquees, and even residential homes joined in by displaying signs of appreciation.
At Transonic, we want to say thank you to all of you working hard each day to care for your patients — not only throughout this pandemic but always. There will never be enough fly-overs, balcony serenades or public proclamations to show our gratitude for everything you've done and continue to do.

Thank you.