10 Keys to Physician Leadership: Dr. Floyd D. Loop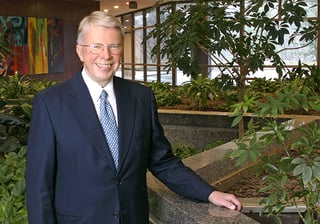 Past CEO Cleveland Clinic Foundation, Cardiothoracic Surgeon;
78th AATS President (1997-1998)
When Dr. Floyd D. Loop was selected to be CEO of the Cleveland Clinic he was a practicing cardiothoracic surgeon, but was sitting on the Board of Governors of the institution and thinking a lot about how to improve the organization so that it would thrive.
Although Dr. Loop first found switching gears from being a surgeon to becoming an administrator a challenging endeavor, he became convinced that a large academic medical center is better run by a physician than a layperson. He firmly believed that it was easier for a physician to learn the fundamentals of business than for a layperson to master the fundamentals of healthcare.
After running the Cleveland Clinic for 15 years during which it saw unprecedented growth, Dr. Loop retired in 2004 and passed on ten lessons he learned to his successor Dr. Delos M. "Toby" Cosgrove. They are:
Leadership is proactive, not passive. Take reasonable risks.
Leadership needs courage.
Inspire your team to be loyal to the institution, not to you personally, but give loyalty unconditionally.
Speed in decision is the single greatest competitive advantage for an academic medical center.
Stay in the background and be invisible as a strategy is set into motion.
Give others all the credit.
"No one can be as smart as everyone." Look for integrity, intelligence and energy in members of your team.
Credibility, quality and results are the foundation of an organization. One's conscience is one's guide.
An institution needs only to compete with itself, not with the competition. Ask if you are getting better each year.
A leader sets the course, is credible, communicative, and make things happen.