Physician Practice Revenue Drops Because of COVID-19
The global COVID-19 pandemic has taken a significant toll on numerous businesses. Across the country, restaurants are struggling to survive as people stay in and do their part to curb the spread of the virus. And airlines and hotels are experiencing significantly less traffic as people (wisely) opt to forego travel.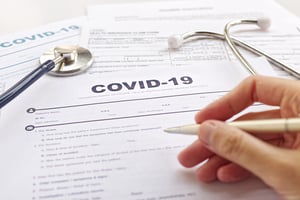 But there's another type of organization enduring a revenue hit, and it's not one we often hear about. This year, doctors' offices are struggling too.

To most, it might seem contradictory that medical practices would see fewer patients amid a pandemic. But while virus cases continue to skyrocket, there's been a steep decline in non-COVID-related medical appointments and treatments. And although vaccines are now available, it will be several months before they're available to the general public and have a significant impact on the infection rate.
In other words, we're still a long way from "business-as-usual."

Here's what this means for physicians' revenue and how practices can navigate this unprecedented challenge.
Why Patient Volume and Revenue are Dropping
In the early days of the coronavirus outbreak, local governments mandated elective procedures be canceled to preserve bed space for COVID patients. But even after states eased restrictions, many patients opted to put off everything from non-emergency surgeries to routine wellness visits.
As large hospitals and medical centers began to furlough non-front-line workers in an effort to stem the flow of revenue loss, smaller practices (especially those in rural areas) were hit even harder. In some cases, patient volume dropped by as much as 60%, according to Medical Economics.
And the losses continue. According to a recent study by the AMA, 81% of physicians surveyed in July and August of 2020 reported their revenue was still lower than before the pandemic, with an average drop of 32%.
With infection rates continuing to climb, it's important physicians find a way to offset any losses they experience due to COVID-19. Eventually, patient volume will return, but until then, practices must do what they need to in order to survive.

How to Bridge the Revenue Gap
There are a few things medical practices can do to cushion the blow in the interim:
Focus on Telehealth and Phone Consults
Although telehealth practices can't fully replace income lost from in-person patient visits, they provide an excellent path for reclaiming some revenue. Although the Centers for Medicare and Medicaid Services (CMS) initially placed restrictions on telemedicine visits, these restrictions have since eased. CMS has increased the reimbursement for telehealth services and phone consultations so they're more closely aligned with traditional office visits.
Enforce Virus-Mitigating Protocols For In-Person Visits
Consider taking steps to see patients in-person while still doing whatever possible to curb the spread of the virus. For example, schedule healthy in-person patient visits in the morning and ill patients after lunch. Have patients wait in their vehicles or outside waiting areas rather than congregating in a lobby or waiting room.
Review Expenses and Look for Opportunities to Reduce Spend
Review your fixed monthly expenses. Is there anything you can delay, defer or eliminate? Contact your mortgage or leasing company and ask if there is any way to reduce or delay payments, and keep in mind that personal debt related to your physicians practice, such as student debt, may be able to be deferred. Additionally, consider taking a pay cut. While it's not ideal, a temporary salary reduction could help you stay afloat.

Remember that resources are available for financial help, such as low-interest loans (as outlined by the American Medical Association.) Loans and financial assistance are available at the federal level as well as for small business in some states. Federal assistance is also available to physicians' offices and medical clinics that serve the most vulnerable communities.
Preserving your practice as frontline primary care is essential to your community, and it's crucial you take the necessary steps to keep your doors open.