Physician Recruitment: How to Give It a Boost
The U.S. population is both growing and aging. With these shifts comes a projected shortage of physicians — up to 104,900 by the year 2030, as a recent report from the Association of American Medical Colleges (AAMC) notes.
This shortage not only presents obstacles in patient care, but it also introduces new stresses to physician recruitment. Healthcare facilities need to find creative ways to get in front of physician candidates during their job search and pique their interest.
Here are four ways to boost your physician recruitment.
4 Ways to Boost Your Physician Recruitment
Social Media
Social media is emerging as a powerful tool in the recruitment process. In fact, according to an SHRM study,(Define SHRM – Society for Human Resource Management) 84 percent of organizations use social media for recruitment — a 28 percent increase since 2011.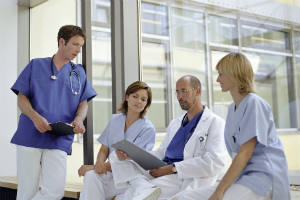 The first step is to establish a social media presence that will attract potential candidates, as well as casual visitors, to your website. This gives you a chance to connect with individuals who may not be in the middle of a job search, but are open to new opportunities that could be a good fit.
Paid advertisements through social media offer further chances to target potential candidates, matching them to job opportunities that correlate with their qualifications.
Search Engine Optimization (SEO)
When physicians are active in their job search, they often rely on search engines to guide this process. But when job postings aren't optimized for search engines, it's likely that they will never make it in front of the candidate.
The best place to start with SEO is keyword research. By weighing factors like search volume and difficulty, you can identify the right long-tail keywords that can push your career pages from the second to first page of search results.
It's also important to make sure that the job description includes descriptive and useful information that is specific to the position.
Leadership Opportunities
Opportunities for growth are a big selling point in the recruitment process. Potential candidates favor positions where they can continue their education and be actively involved in decision-making processes.
There are a few different ways to establish these leadership opportunities for physicians. One option is to create internal committees that work toward a patient-centric approach to care and use patient feedback to initiate solutions. Another option is to create a mentoring program that allows more experienced physicians to train and advise new hires.
Technology Investments
Physicians keep a busy schedule, so it's important that practices invest in the right technology to support their efforts. In addition to increasing the efficiency of healthcare operations, these investments are also beneficial to employee satisfaction.
Consider electronic health records (EHRs), for instance. With EHRs, physicians are able to provide patients with better care as they can exchange information with them in real time. Quicker access to patient records is paired with the added benefit of less paperwork and fewer errors.
Giving Physician Recruitment a Boost
The recruitment of physicians is a competitive market. Practices need to implement strategies that effectively promote job openings while also adding value to their workplace.
By following the four strategies highlighted above, you can give your physician recruitment a significant boost.