Physician Specialists are in Demand: The Latest Information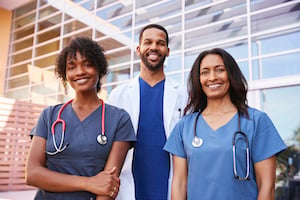 Medical specialists are in increasing demand, as evidenced by the latest data tracking physician recruitment and salary trends from Merritt Hawkins. The data show that hospitals, health systems and other medical groups are seeking more physician specialists and fewer primary care physicians.
Primary care physicians are still in demand though, notes Merritt Hawkins. However, there has been a strong shift in recruitment activity toward medical specialties — 78 percent of search assignments were for specialists, compared to 67 percent four years ago. The increase in demand for physician specialists is driven by population and physician aging, according to the research.
Medical Specialities (Specialties) in High Demand
According to Merritt Hawkins' data, psychiatrists topped the demand for specialists for the fourth straight year. This is due to the severe shortage of mental health professionals across the country.
The need for psychiatrists, OB/GYN, internal medicine and radiology specialists rounded out the top four recruited specialists.
What the Future Holds for Physician Specialist Demand
The nation's increased demand for services directly or indirectly generated by doctors will continue to drive the need for physicians and specialists. The looming physician shortage also plays a role. There is projected to be a shortage of 67,000 specialists and 55,000 primary care physicians by 2032.
While the demand continues to grow for physicians, a combination of an aging physician workforce, limited funding for training are negatively impacting the supply of physicians.
According to Merritt Hawkins, the following specialties face the biggest deficit by 2025:
Cardiology
Allergy and Immunology
Dermatology
Gastroenterology
Hematology/Oncology
Pulmonology
Merritt Hawkins notes that the demand for surgical specialties remains strong, likely because of the aging population.
Academic recruiting is also being negatively affected by the physician shortage. Because of the physician shortage, many faculty members have been lured away from academic medical centers to private practices, pharmaceutical companies or other organizations.
Data also show that the solo practice model has eroded with only 1 percent of searches conducted for solo or direct care settings.