7 Ways Physicians can Retain Patients
Every new patient that walks through the door is a win for your practice — but that may be the easiest part. Retaining patients is all about providing strong customer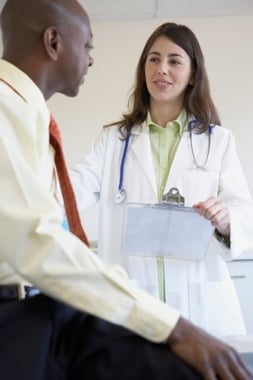 service. So often, physicians skip over this important aspect of business in the name of good medicine or even getting paid. But when you do, your patients are more likely to go online and Google another physician. Below are seven tips for retaining patients for the long-term, and possibly attracting some new ones along the way.
Live Person Answering Service
As much as we've embraced automation, having a real person answer the phone when you call the office is a welcome comfort, especially if you're feeling under the weather. With a live person answering phone calls, patients will be able to schedule an appointment immediately, ensuring that you don't lose their business. If your practice is busy, you can implement an automated "merry-go-round" system to allow for a live answer. Remember that it's important to train your receptionists to be warm, friendly and empathetic when they answer the phone.
Clean Waiting Area and Bathrooms
A clean waiting room and bathroom is the true test of how well an office is run. The last thing patients want to feel is that they're getting sicker by using your bathroom. Make sure staff regularly tidies up any stray magazines or trash.
Friendly Reception
First impressions absolutely count in customer service, and your reception staff is your front line. Encourage your staff to greet each person with, "Hi, how may I help you today?". Reception should be available to help, and keep patients updated if there are any delays. Also be mindful of HIPAA laws, and train your staff to respect privacy regarding patient information.
Conduct Surveys
One of the best ways to show patients you care is to consistently ask how you can improve your practice. An underused, but highly effective, approach is the mystery shopper. A mystery shopper is a trained employee who knows how to objectively assess your practice, and look for things that may otherwise go unnoticed by your patients. Just be prepared to hear the bad with the good, and take steps to implement changes.
Hassle-free Billing
Your patients don't look forward to dealing with payment, so when your billing process is difficult, you run the risk of losing them in a tangle of red tape. If you're hearing consistent complaints about your billing company, take them seriously and make any necessary changes to get things back on track.
Keeps Tabs On Your Online Presence
Just like you wouldn't make a reservation at a one-star eatery, your patients wouldn't make an appointment with a doctor who had a bunch of negative comments online. While you can't stop patients from giving unfavorable feedback, you can respond to them directly to show others that you are listening. At the end of a visit, ask your patient to leave an online review on Yelp or Zocdocs if they've had a pleasant experience. More often than not, you'll begin to accumulate positive reactions that will bring in new business.
Say Thank You
Gratitude will always go a long way in making patients feel cared for by your practice. Consider pairing a thank you along with an emailed appointment reminder, or sending warm wishes during holiday seasons. Remember that gratitude goes both ways, and how you receive kudos is just as important as how you give them.
While technology may be taking over, personal touches can make a huge impact in keeping your patients a part of your practice. As they see you and your staff demonstrating authentic care and compassion, they'll be less likely to switch and more likely to recommend you to their family and friends for the long-run.