Pioneers in Cardiothoracic Surgery: Dr. Christiaan Barnard
On Dec. 3, 1967, a medical milestone was made in Cape Town, South Africa. A 54-year-old grocer, Louis Washkansky, received a heart transplanted from a young woman who died in a fatal accident while crossing the street. A medical team of 30 under the direction of Dr. Christiaan Barnard, assisted by his right-hand man and brother Marius, performed the nine-hour operation. Washkansky survived the operation and lived for 18 days before succumbing to pneumonia.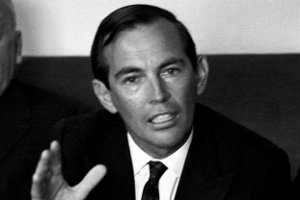 Overnight, Barnard became a household name and one of the most well-known pioneers in cardiothoracic surgery. He enjoyed the media attention and jet-setted around the world, meeting famous people — from princes and kings to American presidents and even the pope. Charming and good-looking, Barnard became known as the "film star surgeon." What is not widely known is that he also treated hundreds of patients around the world, free of charge.
Barnard was born in a small, sleepy town of Beaufort West in the Western Cape, South Africa in 1922, one of five sons of an Afrikaner Dutch reformed minister and his wife. One of his brothers, Abraham, died of heart disease when he was 5 years old.
After studying and obtaining his M.D. from the University of Cape Town Medical School, Barnard received a two-year scholarship for postgraduate training in cardiothoracic surgery at the University of Minnesota under open-heart surgery pioneer Walt Lillehei. While there, Barnard met a fellow heart transplantation surgeon Norman Shumway, who along with Richard Lower, did much of the research that paved the way to the first successful human heart transplant. Barnard later described the two years he spent in the United States as "the most fascinating time in my life."
Prior to his first heart transplant operation in 1967, Barnard had spent many years experimenting with heart transplantation, mostly with dogs. More than 50 dogs received transplanted hearts. After several of the first human heart transplant recipients died — often due to rejection of the transplanted organ — many surgeons gave up on cardiac transplantation. Like Shumway at Stanford University, Barnard refused to give up and persisted performing heart transplants until the advent of cyclosporine, an effective immunosuppressive drug that combated organ rejection.
Between 1967 and 1973, Barnard performed 10 orthotopic transplants following the Shumway protocol. He performed his second heart transplant operation Jan. 2, 1968, a month after the first, and the patient, 59-year-old dentist Philip Blaiburg, survived for 19 months. Barnard's sixth heart transplant patient Dirk van Zyl, who received a new heart in 1971, survived 23 years and was the longest-lived recipient.
Barnard was also the first to perform a heterotopic heart transplant, an operation that he devised in which the patient's own heart is not removed. The new heart is positioned so that the chambers and blood vessels of both hearts can be connected to form what is effectively a "double heart." Forty-nine consecutive heterotopic heart transplants were performed in Cape Town between 1975 and 1984.
Plagued by rheumatoid arthritis since his days in Minnesota, the disease in his hands ended Barnard's surgical career in 1983. He retired as head of the Department of Cardiothoracic Surgery in Cape Town and spent two years as the scientist-in-residence at the Oklahoma Transplantation Institute in the United States and as an acting consultant for various institutions.
Barnard divided the remainder of his years between Austria where he had established the Christiaan Barnard Foundation, dedicated to helping underprivileged children around the world, and his 32,000-acre game preserve in Beaufort West, South Africa. He died of a severe asthma attack on Sept. 2, 2001 while vacationing in Cyprus.
Photo Credit: By Mario De Biasi (Mondadori Publishers) [Public domain], via Wikimedia Commons